Harriet Beecher Stowe - Biography and Works
Harriet Beecher Stowe (1811- 1896) was born in Litchfield, Connecticut, into a large family as a seventh daughter of Lyman Beecher. When she was growing up, her father, Lyman Beecher, had a considerable reputation, as a Protestant preacher. At the time of her upbringing one view on sin was popular.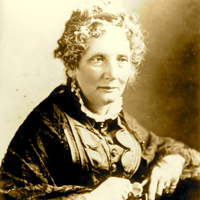 Harriet Beecher Stowe
This view is - 'Sin can be avoided.' If sin can be avoided, slavery is also a sin, why can't it be avoided?' This view struck Harriet Beecher Stowe since her upbringing. The atmosphere, in which she was brought up since her childhood, was moralistic to the point of monotony. Harriet lost her mother when she was four old. In her mother's absence Harriet Beecher Stowe was raised by aunts and a stepmother. HB Stowe was named after her aunt, Harriet Foote, who was there to inspire deeply her philosophy, especially with her strong belief in culture. Her uncle, Samuel Foote, influenced her to read literary works of Lord Byron and Sir Walter Scott. When Stowe was eleven, she enrolled in the school at Hartford, Connecticut, run by her elder sister Catharine. She got the opportunity to learn languages, natural and mechanical science, composition, ethics, logic, and mathematics. In those days these subjects were generally taught to male students excluding female students. Four years later she was engaged as an assistant teacher.
Her father became the president of lane Theological Seminary. In 1834 Stowe won a prize in a contest of the Western Monthly Magazine, and since then she has started her literary career. Stowe was a regular writer of stories and essays for the magazine. Her first book, The Mayflower, was published in 1843.
In 1836 Stowe conjugal life began with Calvin Ellis Stowe, who was a professor at her father's theological seminary. In the early years of their marriage, they had to face poverty. In the next 14 years Stowe became the mother of 7 children. In 1850 they moved to Cincinnati, where her husband was offered a job of professor at Bowdoin. In the same year the Fugitive Slave Law was passed by the Congress. This law states that giving shelter or assistance to an escaped slave became a crime. In Cincinnati, Harriet Beecher Stowe had a closer view of slavery. She had seen the dehumanized plight of slaves. Stowe had heard many stories of slave life. Through observation and learning Harriet Beecher Stowe had acquired a great of deal of familiarity with factualness and actualities regarding the slaves' lives of blacks. Having seen the miserable plight of those slaves, Stowe was profoundly shocked. She took slavery as the worst sin and social evil. She decided to stand in immediate favor for the abolition of slavery. To stimulate the fervor of abolition of slavery. She decided to write a slave narrative. By writing a univocal slave narrative, she decided to give a sharp jolt to the foundation of the social evil that is, slavery. Thus she wrote a slave narrative, the Uncle Tom's Cabin.
It was first published in the anti-slavery newspaper The National Era, from June 1851 to April 1852, and later it was developed in the form of a book. It was a great success and became the second best seller only after the Bible. When Abraham Lincoln met the author he joked, "So you're the little woman who wrote the book that started this Great War." Leo Tolstoy praised the work and it remained enormously popular even after the Revolution.
Because of her sudden risen fame, the doors to the national literary magazines were opened for her. She started to publish her writings in The Atlantic Monthly and later in Independent and in Christian Union. For a time being she remained the most successful female writer in The Atlantic Monthly and in The New England literary clubs. From 1853 to 1859 Stowe made several journeys to Europe, where she developed acquaintances with George Eliot, Elisabeth Barrett Browning, and Lady Byron.
She was attacked on the true portrayal of the south and its ugly slave system and the passivity of the scholar northerner. This severe attack made her write The Key to Uncle Tom's Cabin (1853), in which she presented her source material. A second anti-slavery novel, Dred: A Tale of the Great Dismal Swamp (1856), told the story of a dramatic attempt at slave rebellion.
After the Civil War the sales of the novel Uncle Tom's Cabin declined. The emotions of sentimentality and religiosity of the story were considered a pitfall. The first film adaptation was made in 1903. 'Uncle Tom' was used negatively, meaning white authoritarianism and black passivity, undue subservience to white people on the part of black people. In the 1970s, Uncle Tom's Cabin, with its strong female characters, started to attract the attention of feminist critics.
Stowe's later works were not as popular as Uncle Tom's Cabin. Stowe used to spend her life in Hartford in the summer and winters in Florida, where she had a luxurious home. Her later works like The Pearl of Orr's Island (1862), Old-Town Folks (1869), and Poganuc People (1878) were partially based on her husband's childhood. Poganuc People was Stowe's last novel. She died on July 1, 1896 in Hartford, Connecticut.