Narrative Techniques in Uncle Tom's Cabin
Harriet Beecher Stowe has brought into application a few narrative techniques in Uncle Tom's Cabin, one of the recurrently applied techniques is of idealizing women characters. H.B. Stowe attempts to present the victory of love, of compassion and of the rendering good for evil.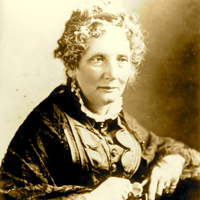 Harriet Beecher Stowe
She is of the view that with spiritual power to render good for evil, one can achieve moral superiority. By virtue of moral superiority one can triumph over physical bondage. Stowe clearly says that cultivation of moral superiority and the virtue of rendering good for evil lead to an emancipation from the physical bondage. To climb the ladder of spiritual maturity and moral perfection, according to Stowe the cultivation of womanly virtues is a must. Stowe defines womanly virtues as love, compassion, sympathy, virtue of rendering good for evil and tolerance. This thematic requirement needed apt and appropriate narrative technique. Since Stowe is highlighting a set of virtues like compassion and rendering good for evil, she constantly highlighted women characters in Uncle Tom's Cabin. She exploited to its fullest extent the technique of highlighting ideal virtue of a woman against the cruel, merciless and selfish act of man. When Mr. Shelby, despite his kindheartedness, was going to sell Eliza's small son Harry, Eliza was profoundly shocked and affected. How can a mother see her son being sold to a different man? Eliza pleaded with Mrs. Shelby for not selling her small son Harry. At this moment Harriet Beecher Stowe made use of the technique of juxtaposing man's conditional intention with woman's virtue like unconditional love and compassion. Mr. Shelby too talks much about being generous and helpful to his slaves. But when the issue like the economic utility of the child arises, he no longer hesitates to sell even a small child Harry. It is only Mrs. Shelby, who can rise above economic constraint and thinks freely about helping Eliza. She put a man's greed for economic gain resulting from slavery against a woman's unconditional power to extend a grain of love, compassion and pity. Not only this, Stowe brings into full use the technique of highlighting the courageous nature of woman for love. Eliza crossing the Ohio River for escape from slavery is symbolic of an unconquerable love for liberty.
H.B. Stowe has applied the next important technique of bringing the grace of Christianity (religion) and the evil of slavery together. By bringing Christian grace and sin slavery together, Stowe wants to say that the enslaved blacks can win their battle by the agency of moral maturity.
The third important technique is the technique of using racial stereotypes. Somewhere else in the novel, Stowe has said that both Eliza and George are light skinned. Elsewhere in other parts of the narrative she has said that the mulattoes worked inside the house and other utterly black slaves worked in the plantation. The use of this stereotype shows a racist preference for blacks who have some white parentage. By using these racial stereotypes Stowe contributed to the plot-development. Because Eliza and Harris are light enough to pass for white, it is easier for them to escape.
The fourth equally striking technique is coincidence. In chapter 42 An Authentic Ghost story; Stowe has incorporated a subplot. Coincidentally Madame de Thoux who is George Harris's sister happens to know that her brother George Harris fled to Canada. Cassy happens to know that Eliza is her long-lost daughter. The nice ending, the happy ending or a coincidental reunion has somehow lessened the tragic impact of the death of an amazingly pious man. By including the scene of coincidental reunion Harriet Beecher Stowe indirectly hints that a great future of comfort, happiness and peace is in store for those who have been screaming in the crucible of slavery. Furthermore the technique of using coincidence regarding an unprecedented meeting between Cassy and Eliza helped Stowe to put an end to the complicated exterior element in the plot.
The fifth technique is the technique of spiritualizing the sad death of Uncle Tom. Uncle Tom, at the painful moment of his death, describes about his death as the glorious moment of his spiritual birth. He says nobody should buy him. This technique of converting Tom's violent death into the moment of his spiritual triumph has made Stowe moral hero 'Tom' as somewhat ludicrous. But it has, on the contrary, given expression to the mounting spiritual freedom of Tom.
The next technique Stowe exploited to the furthest extreme is the technique of foregrounding the detrimental impact of slavery on marriage and motherhood. By using the narrative device of exposing the destructive effect of slavery, Stowe struggles to disprove and discredit the root of slavery. She wants to say these and these are the destructive consequence of slavery. So it should be uprooted from society. Associated with this narrative device is the device of showing the spiritual superiority of slaves. Stowe wants to say since slaves are at the top of the hierarchy of religious imperatives, they should not be treated as chattel (movable property) only. This technique of bringing to the highest pitch the unwavering power of Tom to render good for evil Beecher Stowe cautions the white readers that blacks are not the good-for nothing people. They can become a lesson of moral maturity to the white people.
The last technique Stowe uses the most prominent technique of slave narration. By portraying the sufferings and misery faced by slaves in the south, Stowe makes us to be actively serious about the issues like slavery and racism. Harriet Beecher Stowe not only shows the situation in which the slaves are dehumanized by white masters, but also, how socially shocking and heart- rending has become the evil of slavery. By dramatizing the worst effect of slavery Stowe constantly emphasizes that slavery is an evil. It is a curse on humanity. It should be uprooted. It must be abolished. The society must not accommodate the practice of slavery, according to her. Since slavery undermines the foundations of social institution and virtues value like marriage and motherhood, so there is every reason to say that slavery is an evil. Hence it must be stamped out from society.