Allen Tate - Biography and Works
Allen Tate was a distinguished man of letters from the American South, who was a dominant figure in poetry, criticism, essay and ideas. Tate was born as the youngest son of John Orley and Eleanor Varnell Tate in Kentucky. Because of the frequent migration from one place to another, his primary education was badly affected. He was much influenced by his mother who loved reading literary books, he himself read a wide variety of books.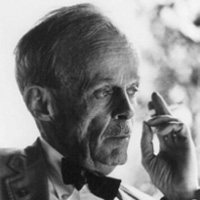 Allen Tate (1899-1979)
He joined Vanderbilt University in 1918. He received excellent honors in the study and got the membership in Phi Beta Kappa, an exceptional oldest honor society in the United States. He also joined the Fugitives, a group of Southern intellectuals, including JC Ransom, Robert Penn Warren, and Davidson. They cultivate a notion that the South did not have its own literature and history. Tate always took side of Southern agricultural life which for him is the artistic beauty, intelligence and wit of ancient age. Though he was in contact with many other influencing writers like Ernest Hemingway, Gertrude Stein, etc. he did not leave his attachment towards his homeland, the South.
He penned two biographies of Southern Civil War heroes, Stonewall Jackson: The Good Soldier and Jefferson Davis: His Rise and Fall. He wrote his most important and famous poem, 'Ode to the Confederate Dead'. He wrote his only novel, The Fathers too. He was the Poet Laureate from 1943 to 1944. His poems were soaked with the spirit of love, of the South and confronted the relationship between perfect past and incomplete present in terms of faith and tradition inherited by the ancestors.
He was one of the most popular New Critic that believed in close reading of the text and the autonomy of any work of art. He developed the New Criticism founded by JC Ransom in another level. His some of the works are: The Mediterranean and Other Poems, 1936, The Swimmers and Other Selected Poems, 1970, Two Conceits for the Eye to Sing, If Possible, 1950, Reactionary Essays on Poetry and Ideas, 1936, The Man of Letters in the Modern World (essays), 1955, Memoirs and Opinions.