Aphra Behn - Biography and Works
Aphra Behn was an English Restoration poet, playwright, translator and a novelist who proudly became the first professional woman writer to earn living through writing. She became one inspirational figure for the later generation of woman writer who broke all the barriers regarding the culture of confining women into the four walls of a house and the literary barriers that put a woman down in the social strata. It is said that during her lifetime, she was popularly known as Ann Behn, Mrs Bean, agent 160 and Astrea.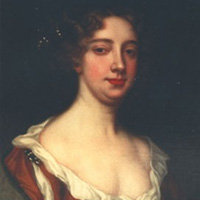 Aphra Behn (1640- 1689)
Behn was hugely creative in terms of writing and adapting plays. She wrote fiction and poetry, translated works from French and Latin. Aphra Behn was a friend of Wilmot and she was the boldest female writer to talk about the sexual freedom for both male and female. Her main concerns in her writing were themes related to homosexuals, erotic interests and disclosure of unfulfilled sexual desires. Because of such themes in her works in that era, she had to face many criticisms by the contemporary writers and society. She used to defend her by stating that if a male author had written on such matters then no criticism would come. Her best known poem dealing with the theme of sexual encounter narrated from the female's viewpoint is 'The Disappointment.' Because of her courageous and bold theme she was praised by Virginia Woolf in her A Room of One's Own stating "All women together ought to let flowers fall upon the tomb of Aphra Behn which is, most scandalously but rather appropriately, in Westminster Abbey for it was she who earned them the right to speak their minds."
She was second after John Dryden in terms of the prolific writings in the English Restoration age. She was one of the leading playwrights of her age. Her first drama was The Forc'd Marriage a tragicomedy published in 1670 and was staged by the Duke's Company. It was followed by The Amorous Prince and The Dutch Lover. After its show, she was criticized for being a female writer and she answered the critics in her another play Epistle to the Reader and said that women are put behind because of lack of education, but not because of lack of ability. Her other famous plays are Abdelazer, The Town Fop, the Rover, Sir Patient Fancy, The Emperor of the Moon and The Lucky Chance.
Her contributions in the field of novel writing are acknowledged as the milestone for the novel writing today by the scholars. Her first novel was Love Letters Between a Nobleman and His Sister which became very popular and total 16 editions. Her Oroonoko published in 1688 is about the story of an enslaved African and his love story. It became a huge success and was translated into French. In the 18th century during the time of abolitionism this novel is celebrated as the first anti-slavery novel. Her versatility can be seen in poetry writing and translations too. Her most of the poems are collected in Poems upon Several Occasions, with A Voyage to the Island of Love and Lycidus; or, The Lover in Fashion.
She had a terrible time in her last four years of time. Her health degraded by poverty and increased debt, but still she had the courage to write. Her last translation was Abraham Cowley's Six Books of Plants. Her tombstone reads 'Here lies a Proof that Wit can never be Defence enough against Mortality.'