Arthur Guiterman - Biography and Works
Arthur Guiterman, an American poet and journalist was born on November 20, 1871. He is best known for his humorous verse and ballads dealing with American history and legends. Guiterman graduated from the College of the City of New York in 1891.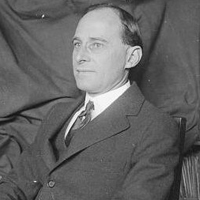 Arthur Guiterman
He worked as an editor for the Woman's Home Companion and the Literary Digest. Guiterman cofounded the Poetry Society of America, and later served as its president from 1925 to 1926. His books include Gaily the Troubadour (1936), The Laughing Muse (1915), I Sing the Pioneer (1926), Wildwood Fables (1927), Brass Laughter (1943) among others. He also wrote librettos for both light and grand operas. Guiterman died on January 11, 1943.
An example of his humorous poem 'On the Vanity of Earthly Greatness', illustrates the philosophy with his humorous rhymes:
"The tusks which clashed in mighty brawls
Of mastodons, are billiard balls.
The sword of Charlemagne the Just
Is Ferric Oxide, known as rust.
The grizzly bear, whose potent hug,
Was feared by all, is now a rug.
Great Caesar's bust is on the shelf,
And I don't feel so well myself."