Arthur Miller - Biography and Works
Arthur Miller is a Jewish American dramatist who has occupied a canonical status in the history of modern drama. He was born in 1915 in Harlem, New York city and died of heart failure at home in Roxbury, Connecticut, on February 10, 2005.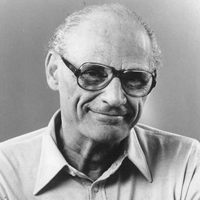 Arthur Miller (1915-2005)
His talent as a playwright achieved full- flowering when he attended the University of Michigan. Even from his student life in university, he had been continuously writing plays. Some of his undergraduate plays won university award. From 1939 to 1947 Arthur Miller produced several literary works prolifically. In this period of eight years, Miller wrote radio plays, screenplays, articles, stories and a novel. Exceptionally successful professional writing of Arthur Miller came from that period. Those professional writings and the several literary products covered a wide range of material. Miller's childhood memories and early experiences furnished, for the most part, the subject- matter for Miller.
Primarily the substances in Miller's plays are apolitical. His early writings were characteristically apolitical. Over time Miler became increasingly conscious of his American self-rooted in the Jewish culture. He came across many cases of anti-Semitism even in democratically advanced countries like the United States of America. With awareness about this problem rampant in the democratic land America, Miller wrote some political plays dealing with those issues which are characteristically political. Later on Miller was disillusioned with the prevailing post-world war second climate in America. Miller felt alienated with the hostile atmosphere of anti-communist witch hunts.
Arthur Miller wrote his first successful play in 1947. All My Sons is this play. It enjoyed unprecedented success. All my Sons won the New York Drama Critics Circle award and two Tony Awards. It has deserved the credit of being a serious drama. The story in this play centers on a man who knowingly produces defective parts for airplanes and then blames the subsequent crashes on his business partner, who is ruined and imprisoned. When the guilty man's son finds out the truth, he confronts his father and rebukes him. Ultimately, the man realizes not only that he has lost his son because of his deceit, but that the dead pilots were also All My Sons.
After this play, Death of a Salesman is another leading play of Arthur Miller. This play posed a challenge to standard American business values. The Death of a Salesman (1949) brought Miller international fame, and become one of the major achievements of modern American theatre. The focal point of Death of a Salesman is the American ideal of business success. To demonstrate the shocking and the heart-rending failure of the American dream is the primary thrust of the play. Critics have disagreed whether Willy's suicide is an act of cowardice or a last sacrifice on the altar of the American Dream.
Miller's third equally important play is The Crucible, it is about his search for personal dignity in a hostile world. It was written on the subject of contemporary anti-communist witch-hunts. The Crucible, which received Antoinette Perry Award, was an allegory for the McCarthy era and mass hysteria. Although its first Broadway production flopped, it's become one of Miller's most-produced plays. In the play, he expressed his faith in the ability of an individual to resist conformist pressures. Miller is the sort of playwright who is extremely critical of some obsessive and deviant values of American modern culture.
In 1949 Miller was named an "Outstanding Father of the Year", which manifested his success as a famous writer. But the wheel of fortune was going down. In the 1950s Miller was subjected to a scrutiny by a committee of the United States Congress investigating Communist influence in the arts. The FBI read his play The Hook, about a militant union organizer, and he was denied a passport to attend the Brussels premiere of his play.
In the late 1950s Miller wrote nothing for the theatre. His screenplay Misfits was written with a role for his wife. The film was directed by John Huston, starring Montgomery Clift, Clark Gable, and Marilyn Monroe. Marilyn was always late getting to the set and used drugs heavily. The marriage was already breaking, and Miller was feeling lonely. John Huston wrote in his book of memoir, An Open Book, (1980): "One evening I was about to drive away from the location – miles out in the desert – when I saw Arthur standing alone. Marilyn and her friends hadn't offered him a ride back; they'd just left him. If I hadn't happened to see him, he would have been stranded out there. My sympathies were more and more with him." Later Miller said that there "should have been more long shots to remind us constantly how isolated there people were, physically and morally." Miller's last play, Finishing the Picture, produced in 2004, depicted the making of The Misfits.
In 2002 Miller was honored with Spain's prestigious Principe de Asturias Prize for Literature, making him the first U.S. recipient of the award.