Athol Fugard - Biography and Works
Athol Fugard (1932) is born in the remote village of Middleburg, Cape Province, and grew up in Port Elizabeth, the setting for most of his plays. His full name is Harold Athol Lanigan Fugard and as a child, he was known as Hally before he decided he wanted to be called Athol.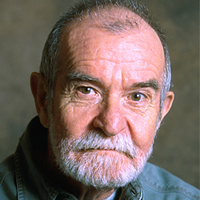 Athol Fugard (11 June 1932)
His parents were English and Afrikaans, with English as his mother tongue (he describes himself as an Afrikaner writing in English). Fugard went to the University of Cape Town but dropped out just before the exams to hitchhike through Africa. He then became a deck hand on a ship and sailed the world for two years, before returning to South Africa.
In 1958, he moved to Johannesburg where he worked as a court clerk that made him keenly aware of the injustices of Apartheid. That became the theme of many of his plays. In that same year, he organized a multiracial theater - "The Rehearsal Room" - for which he wrote, directed, and acted. He soon became the country's premier playwright whose works, many which were banned, deal with contemporary South Africa and the psychological and physical barriers confronted in trying to overcome Apartheid. His plays are almost always set in South Africa and steeped in the politics of the day.
However, the politics never affect his insight into people. Like, Tennessee Williams, Fugard creates characters with strengths and weaknesses which make them unable to fit into what society requires. And like Williams the plays often have dominant women.
Fugard started working in the late 1950's with a group of actors in Johannesburg, including Zakes Mokae, who was influenced by Strasberg's method acting. Fugard wrote his first play No Good Friday, which was performed in "The Rehearsal Room". In the early 1960's Fugard returned to Port Elizabeth and worked with The Serpent Players (their first performance was in the former snake pit of a zoo, hence the name).
Fugard's attacks on Apartheid brought him into direct conflict with the South African government. After his play Blood Knot (1961) was produced in England, the government withdrew his passport for four years. His support in 1962 of an international boycott against the South African practice of segregating theatre audiences led to further restrictions. The restrictions were relaxed somewhat in 1971, when he was allowed to travel to England to direct his play Boesman and Lena (1969). "A Lesson from Aloes" won the 1980 New York Drama Critics' Circle Award. Master Harold. . . and the Boys (1982) premiered at the Yale Repertory Theatre and then was taken to Broadway. Fugard has appeared as an actor in several international films, including Meetings with Remarkable Men (1979), Ghandi (1982), and The Killing Fields (1984). Interestingly, the well-known US actor Danny Glover has acted in numerous Fugard plays: The Island, Sizwe Bansi Is Dead, Blood Knot and Master Harold. . . and the Boys.
Fugard's plays have been regularly premiered in fringe theatres in South Africa, London (The Royal Court Theatre) and New York. The varying styles of his plays can be roughly split up into periods: Apprenticeship (up to 1957), Social Realism (1958 to1961), Chamber Theatre (1961 to 1970), Improvised Theatre (1966-1973) and Poetic Symbolism (1975 onwards).