Bertolt Brecht - Biography and Works
Bertolt Brecht (1898-1956) was born in the city of Augsburg, Germany. Bercht's father Bertolt Friedrich Brecht was a Catholic worker in a paper factory and his mother, Wilhelmine Friederike Sophie Brezing, was a Protestant, ill with breast cancer. Bertolt went to the University of Munich to study philosophy and medicine.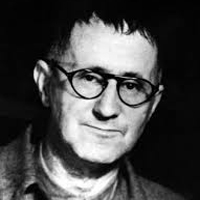 Bertolt Brecht (1898-1956)
Later he became a medical orderly in a German military hospital during the First World War. He strongly disliked war resulted in supporting the failed Socialist revolution of 1919. After attending the First World War, he returned to university because he became more interested in literature.
Bertolt Brecht is a controversial dramatist. Brecht was profoundly dissatisfied with the conventional theatre, theoretically often called an Aristotelian theatre. Therefore, Brecht's early creative endeavor was directed towards introducing a new theory of theatre in sub-situation of the exiting Aristotelian theatre, which had been working with a telling effect since the time of Aristotle. He propounded a new theory of theatre often called epic- theatre. By advancing this theory of epic-theatre, Bertolt Brecht introduced a wave of controversy in the time he was producing plays and theorizing about theatre. His new approach made his audiences detach from the play so as to awaken the spectators' minds and communicate his version of truth.
A fascinating fact about Bertolt Brecht is that he is a Marxist. This Marxist inclination of his has affected his notion of the function of art, typically drama. Brecht upheld the view that drama should inform and awaken sensibilities. He hesitates to agree with the traditionally existing notion that the function of drama is to entertain or anesthetize and audience. Brecht stands in a sharp opposition to the Aristotelian view that the function of art is to evoke pity and fear on the part of the audience. His views regarding the function of drama are antithetical to that of Aristotle, we have already believed that Brecht is a Marxist playwright. So, it is customary to say that his plays are bound to incorporate the political and philosophical issue. As a playwright with a Marxist leaning, Bertolt Brecht represents how a genuine truth is distorted, and how a sincere seeker of truth is denuded of his dignity in the capitalist society.
Brecht's early plays deal with the horrors and violence, warfare wreaks, upon human society. In his early plays Brecht treated the theme of heroism and duty negatively when he was writing plays about warfare and its consequences, he came in touch with the Marxist concept of dialectical materialism. Influenced profoundly by Marx's theory of dialectical materialism, Brecht happened to adopt a materialistic attitude. From that moment onward Bertolt Brecht became a devout disciple of Marxist politics. From that time onward he began to live in an eastern Germany, a part of communist blocks. Most of his remarkable plays were written after he returned to live in eastern Germany, consequent upon of the Second World War. In almost all these prolific works of Brecht; a confident sympathy for communism is transparent.
When Adolf Hitler gained power in 1933 Brecht was forced to flee from Germany because his plays reflected the Marxist interpretation of society. After leaving Germany, he lived in Denmark, Sweden and the Soviet Union. While living in exile he wrote anti-Nazi plays such as The Roundheads and the Peakheads and Fear and Misery of the Third Reich. Later he wrote Life of Galileo (1939), Mother Courage and Her Children (1939), The Good Woman of Szechuan (1941), The Resistible Rise of Arturo Ui (1941) and The Caucasian Chalk Circle (1943). Brecht was awarded with the National Prize in 1951. In 1954 he won the International Lenin Peace Prize. Brecht died of a heart attack on August 14, 1956.