Black Elk - Biography and Works
Black Elk (1863-1950), a Sioux warrior and priest, was born into the Oglala division of the Teton Dakota. His youth coincided with the last years of territorial freedom for the plains Indians.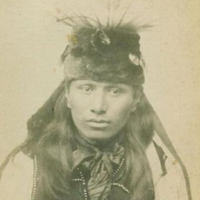 Black Elk
Black Elk had been instructed as a child in the ancient tribal religions, and his mission to defend the embattled Indian cultures involved both active resistance of US encroachments-and the perpetuation of the spiritual vision and commitment of his forefathers. His oral autobiography, Black Elk Speaks (1932, recorded and edited by John Neihardt), is a moving account of his life and mission. He also delivered an account of the religious rites of the Oglala Sioux, The Sacred Pipe (1953, recorded and edited by John Epes Brown).
John Neihardt (1881-1973), who recorded Black Elk's recollections, spent several years among the Sioux early in the twentieth century. Neihardt later worked as literary editor of the Minneapolis Tribune and the St. Louis Post Dispatch. Poet, playwright, lecturer, and advocate of the Indians, Neihardt wrote several books, including The Song of the Indian Wars (1925) and When the Tree Flowered: An Authentic Tale of Old Sioux (1951).