Chinua Achebe - Biography and Works
Chinua Achebe (1930 - 2013), the Nigerian novelist, poet, short story writer and essayist, was educated at Umuchia and Abadan.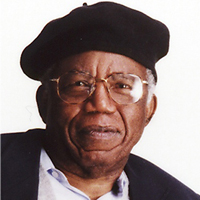 Chinua Achebe
All his novels written in English, including Things Fall Apart (1958) and A Man of the People (1966) describe inter-tribal and interracial tensions in pre- and post-colonial Nigerian society as well as traditional African society in confrontation with European customs and values.
In 1966 he became involved in the war between Biafra and the rest of Nigeria, and devoted most of his time thereafter to politics and education, producing no more fiction until Anthills of the Savannah (1987). Achebe won the Nobel Prize for literature in 1989. In this story, Chinua Achebe describes how a family, with its hard work and patience, manages to settle itself after it had lost everything in the war.