Countee Cullen - Biography and Works
Countee Cullen was one of the most important Harlem Renaissance poets, novelist, anthologist, children's writer, translator and playwright. He was one of the African American poet who won most of the prestigious awards from his high school days that continued with his later life. His exact birth place was unknown and his parents' identity was also not clear.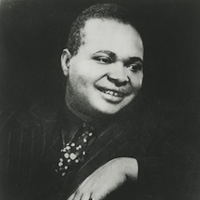 Countee Cullen (1903-1946)
He is said to have been raised by his parental grandmother until the age of 15 and later he was adopted by Carolyn Belle and Reverend Frederick A. Cullen, a conservative minister at the famous Salem Methodist Episcopal Church in Harlem.
In 1918 he went to DeWitt Clinton High School. He won a city wide poetry competition and also edited the school literary magazine. He joined New York University and graduated Phi Beta Kappa. There he won Bynner Poetry prize. In 1925, he published his first collection of poetry called Color which gave him instant recognition and praise from the reputed poets and critics. It was regarded as the landmark for the Harlem Renaissance. This poetry collection praised the black beauty and at the same time condemned the racial issues. 'Heritage' and 'Incident' are the most noted poems in this collection. In 1926, he got a master's degree from Harvard University and joined worked as the editorial staff of Opportunity magazine. After the publication of Color, Copper Sun and The Ballad of the Brown Girl were immediately printed.
Cullen was heavily influenced by English Romantic poet John Keats, PB Shelley, and AE Housman. So, most of his writings are modeled in the structure of the traditional European writing, but the theme remained around the African American racial issues. Cullen's themes are love (both its joys and sorrows), beauty, and the shortness of life. Still, behind these themes, he clearly feels the pain of being black in America. Except poetry, he penned an ironic novel One Way to Heaven in 1932. In 1935, he translated Euripides' classical work Medea and became the first African American to do it. As a playwright, he wrote The Third Fourth of July, Heaven's My Home, and St. Louis Woman.
He got married to Nina Yolande Du Bois, daughter of a leading Black intellectual W.E. B. Du Bois. But their marriage did not last long because it is rumored that Cullen was a homosexual and his partner was Harold Jackman. In 1947, On These I Stand: An Anthology of the Best Poems of Countee Cullen was posthumously published. And his biography And Bid Him Sing written by Charles Molesworth was published in 2012.