Denise Levertov - Biography and Works
Denise Levertov is a British-born American poet and writer known for the mystical and lyrical quality of her writings. She was born in Elford, Essex (England) and educated at home. After working as a nurse in London during World War II, she immigrated to the United States in 1948.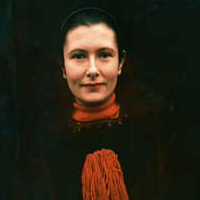 Denise Levertov (1923-1997)
From 1956 to 1959 she lived in Mexico. She then taught at, among other schools, Stanford University. In addition to poetry, she published two collections of prose. Her early work was written in a predominantly English Romantic vein, but as a result of her associations with imagists William Carlos Williams, Ezra Pound and H.D., and Black Mountain poets Robert Creeley, Cid Corman, and Robert Duncan, she remade herself into a quintessentially American poet.
Although she often wrote in a visionary style that bordered on "magical realism", her commitment to material reality resulted in a willingness to take on difficult social issues. She retained concreteness, precision and intensity, while working with freer forms. Levertov began writing poetry as a child and at the age of twelve she sent some of her work to T.S. Eliot, receiving a letter of serious advice in return. Levertov's first book of verse, The Double Image, was published in 1946. The book, released in 1946, brought her recognition as one of group poets dubbed the "New Romantics."
Levertov married American writer Mitchell Goodman in 1947, moved to the United States in 1948, and became a naturalized United States citizen in 1956. Her husband's friendship with American poet Robert Creeley led to Levertov's association with the experimental poetry coming out of Black Mountain College in North Carolina. This poetry was greatly influenced by William Carlos Williams and his conviction that poetry is essentially bound up with the immediacy of daily life. The title of Levertov's next book of poems, Here and Now (1957), reflected this influence. Levertov acknowledged these influences, but disclaimed membership in any poetic school. She moved away from the fixed forms of English practice, developing an open, experimental style. With the publication of her first American book, Here and Now (1957), she became an important voice in the American avant-garde. Her poems of the fifties and sixties won her immediate and excited recognition, not just from peers like Creeley and Duncan, but also from the avant-garde poets of an earlier generation such as Kenneth Rexroth and William Carlos Williams. After she published her major works, her British origins were soon forgotten. During the 1960s of the Vietnam War, activism and feminism became prominent in her poetry. During this period she produced one of her most memorable works of rage and sadness, The Sorrow Dance (1967), which encompassed her feelings toward the war and the death of her older sister. It deals with her feelings of rage and sadness at the war and also at the death of her older sister. In subsequent works she clarified her poetic voice as she sought the balance between content and form, experience and structure. Her collections, like O Taste and See (1964) marked her as a major poetic force.
Cite this Page!
Shrestha, Roma. "Denise Levertov - Biography and Works." BachelorandMaster, 4 Nov. 2013, bachelorandmaster.com/biography/denise-levertov.html.