Derek Walcott - Biography and Works
Derek Walcott born in 1930 is a West Indian poet, and playwright. Born in Castries, the island of Saint Lucia was educated at St. Mary's College in Saint Lucia and at the University College of the West Indies in Jamaica.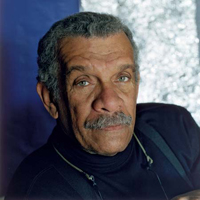 Derek Walcott (1930-2017)
Walcott has been poet-in-residence at a number of American colleges and universities and is the recipient of a MacArthur Award. Walcott is famous for the inventive use of language and vivid portrayal of Caribbean culture in his literary works. Walcott won the Nobel Prize for Literature in 1992. Walcott has written more than 15 books of poetry and about 30 plays. He incorporates the experience of Caribbean people in his writings. Walcott is highly respected author whose poetry emphasizes his West Indian heritage.
Walcott's works reflect the cultural division, incorporating both the formal structure of English verse and the colorful dialect of his native island, St. Lucia. While embracing the literary tradition of England, Walcott additionally denounced the exploitation and suppression of Caribbean culture resulting from British colonization. Walcott's books of poems include Another Life (1973), Sea Grapes (1976), The Star-Apple Kingdom (1979), The Fortunate Traveler (1981), Midsummer (1984), The Arkansas Testament (1987), and Omeros (1990).
His best-known play is Dream on Monkey Mountain (1970). At once flamboyant and disciplined, poems like his wittily titled A Far Cry from Africa proclaim his divided roots, as a black poet writing from within both the English literary tradition and the history of a subject people.
Cite this Page!
Sharma, Kedar N. "Derek Walcott - Biography and Works" BachelorandMaster, 4 Nov. 2013, bachelorandmaster.com/biography/derek-walcott.html.