Dylan Thomas - Biography and Works
Dylan Thomas is a Welsh poet, short-story writer, and playwright, renowned for the unique brilliance of his verbal imagery and for his celebration of natural beauty. Thomas was born in Swansea, Wales, on October 27, 1914.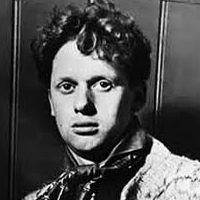 Dylan Thomas (1914-1953)
After grammar school he moved to London where, in 1934, his first book of poetry, Eighteen Poems, was published. At this early age, he revealed unusual power in the use of poetic diction and imagery; the volume won him immediate critical acclaim. Thematically, these poems are virtually all that followed seem obscure because they contain elements of surrealism and personal fantasy. But the freshness and vitality of Thomas's language draw the reader into the poems and reveal the universality of the experiences with which they are concerned.
This introspective tendency is less apparent in Deaths and Entrances (1946) and In Country Sleep (1995), which are generally regarded as containing his finest writing. After the war Thomas was a literary commentator for BBC radio. Noted for his readings of his own verse, Thomas became legendary in the United States, where he gave many lecture tours and gained a wide following. Nevertheless, his last years were shadowed by an increasingly tragic view of his own tempestuous life. His death in New York City on November 9, 1953, was brought on by alcoholism.
He saw himself as an heir to the English Romantic tradition, a tradition that he evoked as an alternate to the classicism of Eliot and the political consciousness of Auden. Thomas was a craftsman who in an obsessive quest for the meaning he sought, and rewrote every line countless times, ("My lines, all my lines, are not the words that express what I want to express. They are the only words I can find that comes near to expressing a half"). For Thomas, poetry was a means of self-definition and of self-discovery. Thomas's major subject was his own emotional life; he used his poems to define his private passions and attitudes rather than to respond to public events ("my poetry is, or should be, useful to me for one reason; it is the record of my individual struggle from darkness towards some measure of light"). He also believed that his poems about this own emotions described struggles that readers would recognize as their own. Thomas's poetry is usually divided into three stages. In the first period, his poems are complex and often obscure, centering on the cycle of birth and death. The poem's from the second period, written primarily during the years of World War II, take on a more human and personalized dimension. "Fern Hill" was written during the last period, when Thomas produced longer narrative poems, using more understandable imagery and fluid lines.
While Thomas's own life paralleled the energy and humor of his works, his last years were overcome with despair. When the poet died of alcoholism in 1953, the world regarded his death as a symbol of the tragic life of modern artist. A twentieth century Welsh writer, Thomas's passionate poetry resounds with innovative verbal imagery and surreal beauty. Greatly admired and imitated, his work was also greatly despised; but to the contemporary reader Thomas is one of the best Welsh poets of the century. Dylan Thomas is one of the most original voices in British poetry since Yeats and Eliot. Dylan Thomas has been a controversial poet. He has been variously described as a surrealist, a primitive. Perhaps the term most frequently attached to Thomas is "Twentieth Century Romantic".
Cite this Page!
Shrestha, Roma. "Dylan Thomas - Biography and Works." BachelorandMaster, 4 Nov. 2013, bachelorandmaster.com/biography/dylan-thomas.html.