Edmund Spencer - Biography and Works
Edmund Spencer is one of the greatest English poets, the poets' poet, the New Poet, and the great synthesizer of many 'heritages' of the European and British thought and literature. Spenser bridged the medieval and Elizabethan periods; he brought together the diverse elements of subject, thought and style that had been operating in the developing English poetry and literature; and he marked both a tremendous rise and a new beginning in the history of English poetry and literature.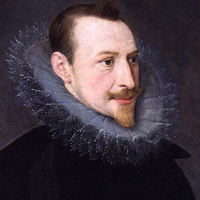 Edmund Spencer (1552-1599)
Spenser was a great synthesizer: he benefited from the Renaissance thought and literature of the continent. Spencer was in favor of Protestant English sect and the British chivalric tradition; but he learnt ideas even from the Catholics whom he portrayed as 'devils' in his works. Spencer was born in London, where he attended the Merchant Tailor's School. He then went on to Pembroke College, University of Cambridge, where he took a degree in 1576. After completing his A.B. and A.M degrees (B.A. and M.A) from Cambridge University, as a 'sizar', or poor scholar, Spenser began his poetic career by translating some poems for a volume of anti Catholic propaganda. As he serves as personal secretary to several prominent men including the earl of Leicester (the would-be king of England, Queen Elizabeth's husband), he also came to know the learned courtiers and scholars Gabriel Harvey, Sir Walter Raleigh, Sir Philip Sidney and Sir Edward Dyer, all of whom were interested to promote a new English poetry, which Spenser led. But, that also brought him closer to the court and the queen. In 1579 he entered the service of the English courtier Robert Dudley, earl of Leicester, whom he praises as the perfect gentleman in The Faerie Queene. He dedicated to Sir Philip Sidney his first major poem. The Shepheardes Calender (1579) which is a series of 12 pastoral poems, written in a variety of meters and employing a vocabulary of obsolete words and coined expressions to give a suggestion of antiquity. While residing with the earl of Leicester in London, Spenser began to write The Faerie Queene, marking his (and the English Poetry's) turning to Renaissance art.
Cite this Page!
Sharma, Kedar N. "Edmund Spencer - Biography and Works." BachelorandMaster, 4 Nov. 2011, bachelorandmaster.com/biography/edmund-spencer.html.