Elizabeth Barrett Browning - Biography and Works
Elizabeth Barrett Browning was one of the most influencing and notable female poets of Victorian era. She was born as the daughter of Mary Graham Clarke and Edward Moulton Barrett at Coxhoe Hall, County Durham. Her father owned Jamaican sugar plantation from which he became a very wealthy man.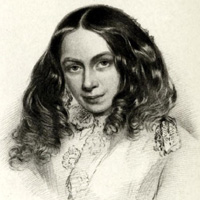 Elizabeth B. Browning (1806-1861)
Though, physically she was weak and had a bad health throughout her life, she enjoyed reading many books including Greek literature, Hebrew Bible, classical literature and philosophy. Her father was the person who always encouraged her in literature. Her first poem 'On the Cruelty of Forcement to Man' was written at the age of eight. In 1820, her father published her narrative poem 'The Battle of Marathon.' She later in 1821, published 'Stanzas Excited by Reflections on the Present State of Greece' in The New Monthly Magazine. Similarly, her 'Thoughts Awakened by Contemplating a Piece of the Palm, which Grown on the Summit of the Acropolis at Athens' was also published shortly after. In 1826, she published her first collection of poems, An Essay on Mind, with Other Poems, which echoed her desire for Byron and Greek politics.
Elizabeth strongly supported the rights and freedom for the slaves and to show her concern she published two poems, 'The Runaway Slave at Pilgrim's Point' and 'A Curse for a Nation'. Her some other well-known poems are 'A Drama of Exile', 'A Vision of Poets', and 'Lady Geraldine's Courtship'. She was such a prolific and impressive poet in that era that she challenged her contemporary poet Tennyson. She became very influential to Emily Dickinson, Virginia Woolf and Edger Allen Poe. Edger Allen Poe even borrowed the meter of 'Lady Geraldine's Courtship' for his famous poem The Raven.
In 1846, she got married to famous poet Robert Browning. But, before her marriage, she suffered a serious lung disease and lived a secluded life for a long time. Despite her ill health, she continued writing and became one of the most prominent female writers of the Victorian age. Her 'Cowper's Grave' and 'The Cry of the Children' received a critical acclaim. Her poetry was extensively renowned in both England and the United States during her lifetime. Her husband, Robert Browning published a collection of her last poems shortly after her death.