Elizabeth Bishop - Biography and Works
Elizabeth Bishop is a famous twentieth century American poetess, who is best known for her poems that examine the physical extraordinary significance in ordinary events or things like looking at a fish. Born in Worcester, Massachusetts, Bishop grew up in New England and in Nova Scotia.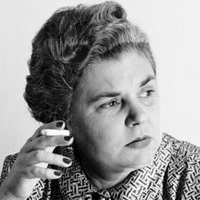 Elizabeth Bishop (1911- 1979)
She was educated at Vassar College, where she founded a literary magazine with Mary McCarthy, who would become a novelist. Bishop's first book, North & South, was published in 1946; it was later expanded and reprinted as North &South - A Cold Spring (1955). For this revised edition she received the Pulitzer Prize for poetry in 1956. Bishop taught at Harvard University from 1970 to 1977. She was influenced and admired by the American poets Marianne Moore and Robert Lowell. Bishop's Complete Poems (1969) won the National Book Award in 1970.
Elizabeth Bishop when she was very young her father died, her mother was committed to a mental asylum, and she was sent to live with her grandparents in Nova Scotia. She earned a bachelor's degree from Vassar College in 1934. She was influenced by the poet Marianne Moore, who was a close friend, mentor, and stabilizing force in her life. Unlike her contemporary and good friend Robert Lowell, who wrote in the "confessional" style, Bishop's poetry avoids explicit accounts of her personal life, and focuses instead with great subtlety on her impressions of the physical world. Her images are precise and true to life, and they reflect her own sharp wit and moral sense. She lived for many years in Brazil, communicating with friends and colleagues in America only by letter. She wrote slowly and published sparingly her Collected Poems number barely a hundred, but the technical brilliance and formal variety of her work is astonishing. Considered for years a "poet's poet," her last book, Geography III, was published in 1976 and finally established her as a major force in contemporary literature. Elizabeth Bishop was awarded the Fellowship of The Academy of American Poets in 1964 and served as a Chancellor from 1966 to 1979. She died in Cambridge, Massachusetts, in 1979, and her stature as a major poet continues to grow through the high regard of the poets and critics who have followed her.
Commonplace objects and occurrences had unusual symbolic meanings for Bishop, and many of her poems take the form of meditations on external objects and events. Her linguistic precision and focus on the external world notwithstanding, Bishop's work carries strong emotions. In many of her poems, Bishop highlights the sense of strangeness that can underlie even ordinary events. She also wrote short stories, many for The New Yorker magazine. Bishop wrote poems that detailed description of landscapes, animals, and objects. But her seemingly calm, objective style can be deceptive, because many of her poems contain deep emotional undercurrents. Her emphasis on outward appearance and precise detail is a way of controlling and containing intense feeling of fear, anxiety, loss and desire. Bishop often explored the way in which the familiar seem strange, and the strange seem familiar. In poems about maps, pictures and domestic scenes, Bishop showed how easily the world could become puzzling, mysterious, even threatening. Stylistically, Bishop's poem displays a relaxed, conversational tone. During her lifetime she won the respect of her peers, and since her death she has come to be regarded as among the major poets of the century. Indeed, her tact, precision, and gentle humor, as well as a seeming spontaneousness that masks painstaking craftsmanship, make her a model for many contemporary poets.
Cite this Page!
Sharma, Kedar N. "Elizabeth Bishop - Biography and Works." BachelorandMaster, 9 Nov. 2013, bachelorandmaster.com/biography/elizabeth-bishop.html.