Elwyn Brooks White – Biography and Works
Elwyn Brooks White was one of the most celebrated American writer. He was born in Mount Vernon, New York as the youngest child of Samuel Till White and Jessie Hart White on July 11, 1899. He graduated from Cornell University in 1921.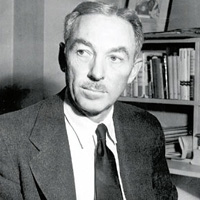 Elwyn Brooks White (1899-1985)
He acquired, the nickname "Andy" at the University as he did not appreciated the name. "I never like Elwyn. My mother just hung it on only because she'd run out of names." He told The New York Times in 1980.
White is the author of children's books including Staut Little (1945), Charlotte's Web (1952) and The Trumpet of the Swan (1970). He is also the author of poems, essays including One Man's Meat, The Second Tree from the Corner, Letters of E. B. White, The Essays of E. B. White, and Poems and Sketches of E. B. White. White has won awards like Presidential Medal of Freedom (1963), National Medal for Literature (1971). White died at his home in North Brooklin, Maine on October 1, 1985 at the age of 86 in the United States.