Ernest Hemingway - Biography and Works
Ernest Hemingway was born in Oak Park, Illinois. His mother, Grace Hall, whom he never forgave for dressing him as a little girl in his youth, had an operatic career before marrying Dr. Clarence Edmonds Hemingway; he taught his son to love out-door life. Hemingway's father took his own life in 1928 after losing his health to diabetes and his money in the Florida real-estate bubble.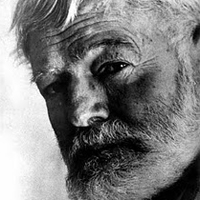 Ernest Hemingway (1898-1961)
Hemingway attended the public schools in Oak Park and published his earliest stories and poems in his high school newspaper. Upon his graduation in 1917, Hemingway worked six months as a reporter for The Kansas City Star. He then joined a volunteer ambulance unit in Italy during World War I.
In 1918 he suffered a severe leg wound. For his service, Hemingway was twice decorated by the Italian government. Hemingway's affair with an American nurse, Agnes, during his hospital recuperation gave basis for the novel A Farewell to Arms (1929). The tragic love story was filmed first time in 1932, starring Gary Cooper, Helen Hayes, and Adolphe Menjou. Hemingway's first books, Three Stories and Ten Poems (1923), of which he received no advance at all, and In Our Time (1924), were published in Paris. The Torrents of Spring (1926) was a parody of Sherwood Anderson's style.
Hemingway's first serious novel was The Sun Also Rises (1926). The story, narrated by an American journalist, deals with a group of expatriates in France and Spain, members of the disillusioned post-World War I Lost Generation. The main characters are Lady Brett Ashley and Jake Barnes. Lady Brett loves Jake, who has been wounded in war and can't answer her needs. Although Hemingway never explicitly detailed Jake's injury, is seems that he has lost his testicles but not his penis. Jake and Brett and their odd group of friends have various adventures around Europe, in Madrid, Paris, and Pampalona. In an attempt to cope with their despair they turn to alcohol, violence, and sex. As Jake, Hemingway was wounded in WW I; they share also interest in bullfighting. The story ends bittersweet: "Oh, Jake, Brett said, "we could have had such a damned good time together." Hemingway wrote and rewrote the novel in various parts of Spain and France between 1924 and 1926. It became his first great success. Although the Hemingway's language is simple, he used understatement and omission which make the text multilayered and rich in allusions.
After the publication of Men Without Women (1927), Hemingway returned to the United States, settling in Key West, Florida. Hemingway and Hadley divorced in 1927. On the same year Hemingway married Pauline Pfeiffer, a wealthy fashion editor. In Florida he wrote A Farewell to Arms, which was published in 1929. Its scene is the Italian front in World War I, where two lovers find a brief happiness. The novel gained enormous critical and commercial success.
In 1930s Hemingway wrote such major works as Death in the Afternoon (1932), a nonfiction account of Spanish bullfighting, and The Green Hill of Africa (1935), a story of a hunting safari in East Africa. Like Gertrude Stein, Hemingway applied techniques from modernist poetry to his writing, such as the artful use of repetition, although in lesser extent than Stein. Hemingway's much quoted "ice-berg theory" was that "If a writer of prose knows enough about what he is writing about, he may omit things that he knows and the reader. . . will have a feeling of those things as though the writer had stated them."
One of Hemingway's most frequently anthologized short stories is 'The Snows of Kilimanjaro,' first published in Esquire in August 1936. It begins with an epitaph telling that the western summit of the mountain is called the House of God, and close to it was found the carcass of a leopard. Down on the savanna the failed writer Harry is dying of gangrene in a hunting camp. "He had loved too much, demanded too much, and he wrote it all out." Just before the end, Harry has a vision, that he is taken up to see the top of Kilimanjaro on a rescue plan-"great, high, and unbelievably white in the sun." In the film version of the story, directed by Henry King, Harry does not die. Nick Adams, Hemingway's autobiographical pre-World War II character, featured in three collections, In Our Time, Men Without Women, and Winner Take Nothing (1933).
In 1937 Hemingway observed the Spanish Civil war firsthand. As many writers, he supported the cause of the Loyalist. In Madrid he met Martha Gellhorn, a writer and war correspondent, who became his third wife in 1940. The first years of his marriage were happy, but he soon realized that Gellhorn was not a housewife, but an ambitious journalist.
With To Whom the Bells Toll (1940) Hemingway returned again in Spain. He dedicated to book to Gellhorn-Maria in the story was partly modelled after her. "Her hair was the golden brown of a grain field," Hemingway wrote of his heroine. The story covered only a few days and concerned the blowing up of a bridge with a small group of partisans. When the heroine in A Farewell to Arms dies at the end of the story, after giving birth to a stillborn child, now it is time for the hero, Robert Jordan, to sacrifice his life. The theme of the coming of death also was central in the novel Across the River and into the Trees (1950). Across the River and Into the Trees, Hemingway's first novel in a decade, was poorly received, but the allegorical 27,000 word story The Old Man and the Sea, published first in Life magazine in 1952, restored again his fame. The protagonist is an old Cuban fisherman named Santiago, who finally catches a giant marlin after weeks of disappointments. As he returns to the harbor, the sharks eat the fish, lashed to his boat. The model for Santiago was a Cuban fisherman, Gregorio Fuentes, who died in January 2002, at the age of 104. Fuentes had served as the captain of Hemingway's boat Pilar in the late 1930s and was occasionally his tapster. Hemingway also made a fishing trip to Peru in part to shoot footage for a film version of the Old Man and the Sea.
In 1960 Hemingway was hospitalized at the Mayo Clinic in Rochester, Minnesota, for treatment of depression, and released in 1961. During this time he was given electric shock therapy for two months. On July 2 Hemingway committed suicide with his favorite shotgun at his home in Ketchum, Idaho. Several of Hemingway's novels have been published posthumously. True at First Light, depiction of a safari in Kenya, appeared in July 1999. It is one of the worst books published by a Nobel writer.