Felicia Dorothea Hemans - Biography and Works
Born in Liverpool, England, in 1793 and died in 1835 Romantic poet Felicia Dorothea Hemans was the daughter of a merchant and a granddaughter of the Venetian consul, and the fourth of six children. The family relocated to Wales following a period of financial difficulty in 1800.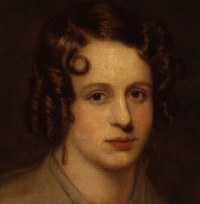 Felicia D. Hemans (1793-1835)
Because of the family business, they moved to North Wales and most of her youth time was spent in Wales. So, she loved to refer to herself as Welsh, 'Land of my childhood, my home and my dead.'
In 1808, she published her first poem that was heartily dedicated to the Prince of Wales. She kept on writing and publishing another poems 'England and Spain' and 'The Domestic Affections'. In the year 1812, she got married to Captain Alfred Hemans, an Irish army. After marriage, she moved to Daventry, Northamptonshire and lived till 1814. She became the mother of five children in just six years, then the couple got divorced. During her stay with her husband, she published a great deal of poetry: in 1816 'The Restoration of the Works of Art to Italy', in 1817 'Modern Greece' and a collection of poems in 1819 entitled 'Tales and Historic Scenes'.
She started living with her brother in Dublin from 1831 where she continued her more productive time in literary writings. Her main collections are The Forest Sanctuary and Records of Woman and Songs of the Affections. She was not only famous in Britain, but also in America and other major canonical writers too, took interest in her poetry like Wordsworth.
Some critics are of the opinion that her works mostly favors the voice of the women, whereas some argue that she deceptively agrees with the male domination and its sentimentality of Victorian society. The seriousness in her poetry is not found so impressive by the then society, so most of her poetry was assigned to school children. Saki, one famous British writer, called her 'household name' in his 'The Toys of Peace'. Though she was not considered a major poet of her time during her lifetime, now in the 21st century, she has got her full recognition as a major influential poet of the eighteenth century. She is now read as a celebrated writer, especially in the United States.
The male romantic poets like William Blake, William Wordsworth, S. T. Coleridge, P. B. Shelley, Lord Byron, John Keats, Ralph Waldo Emerson and Walt Whitman deal with the theme of imagination, creatively, subjectively, self-reliance, individualism and so on. They often go to the nature in search of peace and harmony. Quite opposed to that female romantic poets like Hemans highlights the issues of family, its values along with the human relationship.