Geoffrey Hill - Biography and Works
Geoffrey Hill born in 1932 is an English poet, whose verse mixes fact, fiction, and grave meditations on history. Hill was born in Bromsgrove, England and graduated from Keble College at the University of Oxford in 1953. From 1954 until 1980 he taught at the University of Leeds and since 1981 at Emmanuel College in Cambridge, England.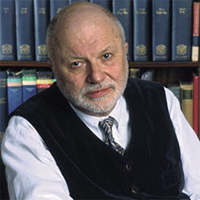 Geoffrey Hill (1932-2016)
Although Hill was strongly influenced by 17th century metaphysical poets and by English visionary poet such as William Blake, his poetic strategies are distinctly modernist. Like T.S. Eliot, he employs dramatic voices, historical juxtapositions, and fictions that pretend to be fact. Hill's strangest but richest work is Mercian Hymns, a series of 30 prose poems based on the historical King Offa who ruled the Anglos-Saxon kingdom of Mercia in the 8th century. Ancient, modern, and autobiographical details evoke this powerful "creature of legend" who is still in the poet's view, "the presiding genius of the West Midlands." Open-endedness is a characteristic feature of Hill's poetry: "I want the poem to have this dubious".
Furthermore, he is a religious, a poet of religious doubt-an agnostic confronting the extremes of human experience, "man's inhumanity to man", the cross and in the concentration camps – or delight in the abundance of the natural world: pain and pleasure alike rendered with a Keatsian richness and specificity. Distinctively resonant as is the voice of Hill's poems, they are consistently impersonal. Even when the poet's earlier self is conflated with that of some character, subjectivity is dissolved in the objective projection of a historical imagination of great range and power. "Strong poetry is always difficult, and Geoffrey Hill is the strongest British poet now active, though his reputation in the English-speaking world is somewhat less advanced than that of several of his contemporaries" (Harold Bloom). Geoffrey Hill may be the strongest and most original English poet of the second half of our fading century, although his work is by no means either easy or very popular. Dense, intricate, exceedingly compact, his poetry has always had great visionary force. Another critic has remarked: "If in his racy, eclectic language and in his wide range of reference he is plainly postmodern, in his themes he evokes comparison with the great modernists W.B. Yeats, T.S. Eliot, and Wallace Stevens. As a philosophical poet, Hill may not be at the level of Yeats, Eliot, and Stevens (not to mention Goethe or Dante), and not just because he lacks their degree of systematic clarity. But he is perhaps the best our "mean unpropitious time" affords, and that is saying a lot." Still another critic has however said, "Hill would be delusional not to realize his poetry is beyond the reach of the common reader, or even most uncommon ones." "Hill's work will never be fashionable but it is a corpus of such passionate seriousness and ethical thought, it's every phrase written with a consciousness of the weight of history and language, that it is hard to imagine it ever being ignored." Geoffrey Hill combines two opposing tendencies of British verse in the postwar period, displaying an excellent formal control, like the movement poets of the 1950s, and an awareness of the violence of language in relation to history like Ted Hughes and other writing since the 1960s. "All of Hill's poems are individual acts of perception and reflection expressed in the image and rhythm of a particular language." Some critics have also called him the originator of a new kind of poetry called the historical poetry.
Cite this Page!
Sharma, Kedar N. "Geoffrey Hill - Biography and Works" BachelorandMaster, 9 Nov. 2013, bachelorandmaster.com/biography/geoffrey-hill.html.