Gore Vidal - Biography and Works
Gore Vidal (1925-2012) grew accustomed at an early age to a life among political and social notables. He was born at the military academy in West Point, New York, where his father was an instructor. He was raised near Washington, DC, in the house of his grandfather, Thomas P. Gore, a populist Democrat senator from Oklahoma. Vidal learned about political life from him and when he was a teenager, he adopted the first name of Gore. Vidal also spent time on the Virginia estate of his stepfather, Hugh. D. Auchincloss.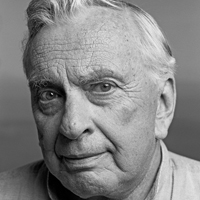 Gore Vidal
After graduating from Philips Exeter Academy in New Hampshire, he served on an army supply ship in the Aleutian Islands, Alaska. Much of his time in the Enlisted Reserve Corps, he devoted to writing. Upon his discharge, he worked for six months for the publishing firm of E.P. Dutton. From 1947 to 1949 Vidal lived in Antigua, Guatemala. His first novel, Williwaw, was based on his wartime experiences as a first mate on Freight Ship 35 in the Alaskan Harbour Craft Detachment. The conventional seafaring story was written in the spirit Ernest Hemingway.
The novel was praised by the critics like the following books, although The City and The Pillar (1948) shocked the public with its homosexual main character. However, he became known as a serious writer at the age of 21, and the novel also 'broke the mold' of gay American fiction. The book was reissued in 1965 with a different ending. In the 1950s Vidal published three detective novels under the name of Edgar Box – Death in the Fifth Position (1952), Death Before Bedtime (1953), and Death Likes it Hot (1954). They didn't gain any kind of success, from the critics or readers.
The Judgement of Paris (1953) was about a young man travelling with jet-set and wondering how to satisfy his own part-cynical, part-romantic outlook. Several of his following novels did not gain critical approval and Vidal started to write plays for television, motion pictures and stage. Among his best-known works from the 1950s is Visit to a Small Planet (prod. first for television in 1955). Vidal was a contract writer for MGM and helped the director William Wyler, who had problems with the script of Ben-Hur (1959). Vidal agreed to rework the script on condition that MGM let him out of the last two years of his long-term contract.
In the 1960s Vidal returned to the literary scene by producing historical or contemporary novels, including Julian (1964), written in the form of a journal by the eponymous Roman emperor, Washington, D.C. (1967) Duluth (1983), and Lincoln (1984), a carefully reconstructed account of the life of the US president. Vidal sees Lincoln as a tyrannical character who is "almost diabolically unknowable in his use of power". Inventing a Nation (2003) dealt also with the creators of the United States.
In the 1960s and 1970s Vidal lived in Italy and appeared as himself in Fellini's Roma (1972). Vidal's house in Ravello, La Rondinaia, is perched 60 meters above the Amalfi coast. With his companion, Howard Austen, he has traveled almost everywhere, but always returned to Rome or Ravello. In 2004 Vidal announced that he would sell his Cliffside villa, because he can no longer walk from there to the piazza.
Throughout his career, Vidal has never accepted the label of "homosexual writer". In his essay 'Pink triangle and yellow star' (1981) he wrote: "The American passion for categorizing has now managed to create nonexistent categories - gay and straight. Either you are one or you are the other. But since everyone is a mixture of inclinations, the categories keep breaking down, the irrational takes over."
During the Reagan years, Vidal published a collection of essays, Arma Geddon (1987), in which he explored his love-hate relationship with contemporary America. In 1994 Vidal co-starred with Tim Robbins in the film Bob Roberts. His collected essays, United States (1993), won a National Book Award. It is a valuable introduction for those interested in American politics and literature. In Palimpsest (1995) Vidal depicted his early life and friends, among them President Kennedy's family, which he has examined in several writings.
Vidal made the use of his experience in World War II in Williwaw and In a Yellow Wood. The city and the Pillar was his best seller that dealt with homosexuality.His language has a closer affinity with Hemingway a plain in style. His writing model is witty, brief and succinct; he uses irony in his works. According to Vidal, against the day to day boredom of society, sex and violence are the only resources the individual has. So many Vidal's novels include this theme. For Vidal, the place of true passion's and true values was always in the past and his characters call on the past to restore the present. This is found in his most successful and impressive works –Julian, Burr and Myron. Vidal uses history to restore will and personality. He often sets, character in a family context –especially the competition between brother or the relation of father and son. He celebrates an individual and personal voice that tries to stand against the impersonal patterns of history.