Henry David Thoreau – Biography and Works
Henry David Thoreau was born in Concord, Massachusetts on July 12, 1817. As an American born essayist, poet, philosopher, naturalist, historian, editor and social critic; Thoreau had been deeply influenced by Emerson's Nature (1836) and he remained pure Transcendentalist all his life.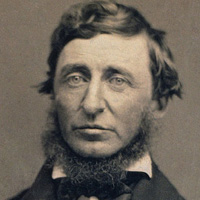 Henry David Thoreau (1817-62)
Graduated from Harvard, he began his lifelong friendship with Ralph Waldo Emerson developed transcendentalist beliefs through his companionship with Emerson by the philosophical commitment of seeking an ultimate truth within and beyond all natural existence.
His best known work, Walden, or Life in the Woods, which grew out of his two year retreat to a cabin by the edge of Walden Pond, is also distinguished by its close observation and meticulously detailed description of nature. Walden (1854) is one of the greatest works of American literature. From 1845 to 1847, Thoreau lived alone in a hut he built for himself on the north shore of Walden Pond, a few miles from Concord. While there he wrote A Week on the Concord and Merrimack Rivers (1849). This book is loosely organized around the story of a river trip which he had once taken with his brother.
A leading transcendentalist, Thoreau wrote his world famous Walden about his stay in the pond side hut proved him as an experienced woodsman to fill the details about plants, rivers and wildlife in his masterpiece. Walden is a hopeful book, encouraging people to lead sincere joyous live. Thoreau sees the world as "more wonderful than it is convenient; more beautiful than it is useful." Thoreau died on May 6, 1862, at the age of 44 due to tuberculosis.