Henry Reed - Biography and Works
Henry Reed was an English war-poet of Second World War, translator, radio broadcaster, dramatist and journalist. He did his schooling at King Edward VI School and went to the University of Birmingham, where he came into contact with the famous poet WH Auden, and Walter Allen who were the lecturers of classics at the university. He was influenced by the Auden and Louis MacNeice. He learned Latin, Italian and Japanese Languages in the university.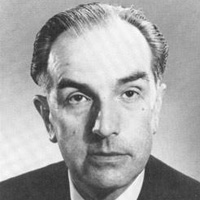 Henry Reed (1914-1986)
By profession he was a teacher at a school, a freelance writer and a critic before the start of the World War II. When the war commences, he was enrolled in the Royal Army Ordnance Corps in 1941. Because of his knowledge in Italian language, he was transferred to the section where the codes against Italy was decoded. After Italy was defeated, he was transferred to the Japanese section for the decoding.
In 1946, he published his poetry collection A Map of Verona that includes the three major war poems entitled as Lessons of the War. "Naming of Parts," "Judging Distances" and "Unarmed Combat" are the war poems of Reed that are on the themes of uprootedness, loneliness, boredom felt by the new recruits in the army. This collection is a witty satire of British army training during the World War II. He wrote a satire against T.S. Eliot's "Burnt Norton" from Four Quartets called "Chard Whitlow" in 1941.
When the war ended, he worked for the BBC as a radio broadcaster and playwright from 1944 to 1979. He produced his most memorable set the Hilda Tablet series in the 1950s. His wit, voice quality and the ability to mimic added more flavors to his success as the broadcaster in BBC. In 1960, he read Lessons of the War as a radio script with two other war poems: "Movement of Bodies" and "Returning of Issue." His radio plays and verse plays are compiled in The Streets of Pompeii and Other Plays for Radio (1971) and Hilda Tablet and Others (1971). He also penned The Novel Since 1939 a critical study of the novels in 1946.