Jane Austen - Biography and Works
Jane Austen (1775-1817) was born in Steventon, Hampshire, where her father, Rev. George Austen, was a rector. She was the second daughter and seventh child in a family of eight. The Austens did not lose a single one of their children. Cassandra Leigh, Jane's mother, fed her infants at the breast a few months, and then sent them to a wet nurse in a nearby village to be looked after for another year or longer.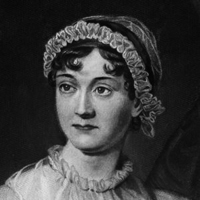 Jane Austen
The first 25 years of her life Jane spent in Hampshire. On her father's unexpected retirement, the family sold off everything, including Jane's piano, and moved to Bath. Jane, aged twenty-five, and Cassandra, her elder sister, aged twenty-eight, were considered by contemporary standards confirmed old maid, and followed their parents. Torn from her friends and rural roots in Steventon, Austen abandoned her literary career for a decade.
Jane Austen was mostly tutored at home, and irregularly at school, but she received a broader education than many women of her time.
She started to write for family amusement as a child. Her parents were avid readers; Austen's own favorite poet was Cowper. Her earliest-known writings date from about 1787. Very shy about her writing, she wrote on small pieces of paper that she slipped under the desk plotter if anyone came into the room. In her letters she observed the daily life of her family and friends in an intimate and gossipy manner.
Rev. George Austen supported his daughter's writing aspirations, bought her paper and a writing desk, and tried to help her get a publisher. After his death in 1805, she lived with her sister and hypochondriac mother in Southampton. In July 1809 they moved to a large cottage in the village of Chawton. This was the place where Austen felt at home. She never married, she never had a room of her own, but her social life was active and she had suitors and romantic dreams. With Tom Lefroy, whom she met a few times in 1796, she talked about Fielding's Tom Jones. They shared a similar sense of ironic humor and Austen was undeniably attracted to him. James Edward Austen-Leigh, her nephew, wanted to create another kind of legend around her and claimed that "of events her life was singularly barren: few changes and no great crises ever broke the smooth current of its course... There was in her nothing eccentric or angular; no ruggedness of temper; no singularity of manner..." Austen's sister Cassandra also never married. One of her brothers became a clergyman, two served in the navy, one was mentally retarded. He was taken care of a local family.
Jane Austen was well connected with the middling-rich landed gentry that she portrayed in her novels. In Chawton she started to write her major works, among them Sense and Sensibility, the story of the impoverished Dashwood sisters, Marianne and Elinor, who try to find proper husbands to secure their social position. The novel was written in 1797 as the revision of a sketch called Elinor and Marianne, composed when the author was 20. According to some sources, an earlier version of the work was written in the form of a novel in letters, and read aloud to the family as early as 1795.
Austen's heroines are determined to marry wisely and well, but romantic Marianne of Sense and Sensibility is a character, who feels intensely about everything and loses her heart to an irresponsible seducer. "I could not be happy with a man whose taste did not in every point coincide with my own. He must enter into all my feelings; the same with books, the same music must charm us both." Reasonable Elinor falls in love with a gentleman already engaged. '"I have frequently detected myself in such kind of mistakes," said Elinor, "in a total misapprehension of character in some point or another: fancying people so much more gay or grave, or ingenious or stupid than they really are, and I can hardly tell why or in what the deception originated. Sometimes one is guided by what they say of themselves, and very frequently by what other people say of them, without giving oneself time to deliberate and judge."'
When Marianne likes to read and express her feelings, Elinor prefers to draw and design and be silent of his desires. They are the daughters of Henry Dashwood, whose son, John, from a former marriage. After his death, John inherits the Norland estate in Sussex, where the sisters live. John's wife, the greedy and selfish Fanny, insist that they move to Norland. The impoverished widow and her daughters move to Barton Cottage in Devonshire. There Marianne is surrounded by a devious heartbreaker Willoughby, who has already loved another woman. Elinor becomes interested in Edward Ferrars, who is proud and ignorant. Colonel Brandon, an older gentleman, doesn't attract Marianne. She is finally rejected by Willoughby.
In all of Austen's novels, her heroines are ultimately married. Pride and Prejudice described the clash between Elizabeth Bennet, the independent and intelligent daughter of a country gentleman, and Fitzwilliam Darcy, a rich aristocratic landowner, who both are blinded by their assumptions and desires. Their relationship starts from dislike, but Darcy becomes intrigued by her mind and spirit, and the "beautiful expression of her dark eyes". She rejects his first marriage proposal but eventually barriers are swept aside and Elizabeth and Darcy are happily united. Austen had completed the early version of the story in 1797 under the title "First Impressions". The book went to three printings during Austen's lifetime. In 1998 appeared a sequel to the novel, entitled Desire and Duty, written by Teddy F. Bader, et al. It followed the ideas Jane Austen told her family.
Emma was written in comic tone. Austen began the novel in January 1814 and completed it in March of the next year. The book was published in three volumes. It told the story of Emma Woodhouse, who finds her destiny in marriage. Emma is a wealthy, pretty, self-satisfied young woman. She is left alone with her hypochondriac father. Her governess, Miss Taylor, marries a neighbor, Mr. Weston. Emma has too much time and she spends it choosing proper partners for her friends and neighbors – blind to her own feelings. She makes a protégée of Harriet Smith, an illegitimate girl of no social status and tries to manipulate a marriage between Harriet and Mr. Elton, a young clergyman, who has set his sight on Emma. Emma has feelings about Mr. Weston's son. When Harriet becomes interested in George Knightly, a neighboring squire who has been her friend, Emma starts to understand her own limitations. He has been her moral adviser, and secretly loves her. Finally Emma finds her destiny in marriage with him. Harriet, who is left to decide for herself, marries Robert Martin, a young farmer.