John Millington Synge - Biography and Works
John Millington Synge (1871-1909) was born on 16 April 1871 in Rathfarnham, near Dublin. He was an Anglo-Irish and a protestant. Though he had a religious background, he did not show any interest on being Bishop rather he devoted himself to the art and literature.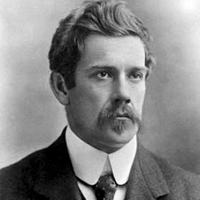 John Millington Synge
Synge was one of the prominent leaders of the Irish literary revival towards the end of the 19th century and the early 20th century. He was one of the founders of The Abbey Theater. He was too much interested in Irish culture and heritage so he was always concerned with these things in his work of arts.
Because of his ill health, he was privately educated. He joined the Sorbonne University of Paris in 1895 with the intention of becoming a critic of French literature. During his stay in Paris, he was exposed to the European theatre which was transforming the modern literature from the traditional and conventional mode, known as modernism. Synge was greatly influenced by the famous realist playwright Henrik Ibsen.
According to the suggestion of W. B. Yeast, Synge went to the Aran Islands where he came into the contact of pure and untainted Irish culture and Irish people. He recorded stories and made reports on the lifestyle of the native inhabitants. These experiences helped him to create The Aran Islands in 1901 and play In The Shadow of The Glen in 1902.
His works mostly dealt with themes of realism, social problems of the then society, religious oppression, sexless and loveless marriages, insanity, alcoholism, and the hypocrisy of Catholicism. His major plays are In the Shadow of the Glen, Riders to the Sea, The Well of the Saints, and Playboy of the Western World. But none of his works got particularly good reviews. His Playboy of the Western World was reviled and caused much chaos during its one week show.
He died on March 24, 1909 at the age of 37.