Jonathan Swift - Biography and Works
Jonathan Swift was born in Dublin, to an English family that had emigrated to Ireland, Swift received an Anglo-Irish education, first at Kilkenny School, then at Trinity College, Dublin, where he took his B.A. in 1686.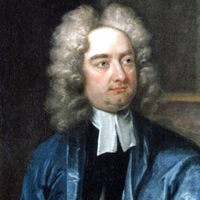 Jonathan Swift (1667-1745)
Political troubles between the English and Irish caused him to move to England in 1689, and for the next ten years, except for a couple of brief periods, he served as secretary to Sir William Temple, a retired diplomat, scholar, and influential politician. During those brief periods away from the Temple, Swift became a clergyman in the Anglican church, a lifelong career that led to his becoming dean of St. Patrick's cathedral in Dublin, in 1713. But during his ten years with Temple, he also developed a consuming interest in politics and a consummate skill as a satirist. Thus, like other English writers of the late seventeenth and early eighteenth centuries, such as Addison, Defoe, Dryden, Pope, and Steele, he became embroiled in political, religious, and social issues through the power of his satiric art. He is now best known for the highly imaginative conception of Gulliver's Travels (1726), which enabled him to satirize not only the political corruption, religious intolerance, and false learning of his own time, but also the vanity of human nature in general. During his life, he was equally well known for the savage irony of his political pamphlets, first on behalf of the Whig party, then on behalf of the Tory party, and finally on behalf of the Irish people.