Joseph Conrad - Biography and Works
Joseph Conrad (1857-1924) was born in a part of Poland that was then under Russian rule. His father Apollo Korzeniowski was an aristocrat without lands, a poet and translator of Shakespeare and Dickens and French literature. The family estates had been confiscated in 1839 following an anti-Russian rebellion. As a boy the young Joseph read Polish and French versions of English novels with his father.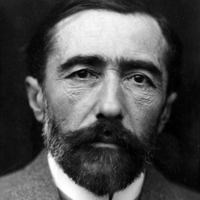 Joseph Conrad (1857-1924)
English was Conrad's third language; he learned to read and write in French before he knew English. After being imprisoned for six months, Joseph Conrad was sent to exile with his family to Volgoda, northern Russia, in 1861. Two years later the family was allowed to move to Kiev. By 1869 Conrad's both parents had died of tuberculosis, and he was sent to Switzerland to his maternal uncle Tadeusz Bobrowski, who was to be a continuing influence on his life. On his death in 1894 Tadeusz left about £1,600 to his nephew-a sizable sum of money, well over £100,000 now.
Conrad attended schools in Kraków and persuaded his uncle to let him go to the sea. In the mid-1870s he joined the French merchant marine as an apprentice, and made between 1875 and 1878 three voyages to the West Indies. During his youth Conrad also was involved in arms smuggling for the Carlist cause in Spain.
After being wounded in a duel or of a self-inflicted gunshot in the chest, Conrad continued his career at the seas in the British merchant navy for 16 years. He had been deeply in debt, but his uncle helped him out. This was a turning point in his life. Conrad rose through the ranks from common seaman to first mate, and by 1886 he obtained his master mariner's certificate, commanding his own ship, Otago. In the same year he was given British citizenship and he changed officially his name to Joseph Conrad. Witnessing the forces of the sea, Conrad developed a deterministic view of the world, which he expressed in a letter in 1897: "What makes mankind tragic is not that they are the victims of nature, it is that they are conscious of it. To be part of the animal kingdom under the conditions of this earth is very well-but soon as you know of your slavery, the pain, the anger, the strife, the tragedy begins."
Conrad sailed to many parts of the world, including Australia, various ports of the Indian Ocean, Borneo, the Malay states, South America, and the South Pacific Island. In 1890 he sailed in Africa up the Congo River. The journey provided much material for his novel Heart of Darkness. However, the fabled East Indies particularly attracted Conrad and it became the setting of many of his stories. By 1894 Conrad's sea life was over. During the long journeys he had started to write and Conrad decided to devote himself entirely to literature. At the age of 36 Conrad settled down in England.
Although Conrad is mostly known as a novelist, he tried his hand also as a playwright. His first one-act drama was not a success-the audience rejected it. But after finishing the text he learned the existence of the Censor of the Plays, which inspired his satirical essay about an obscure civil servant. Conrad was an Anglophile, who regarded Britain as a land which respected individual liberties. As a writer he accepted the verdict of a free and independent public, but associated this official figure of censorship to the atmosphere of the Far East and the "mustiness of the Middle Ages," which shouldn't be part of the twentieth-century England.
Conrad married in 1896 Jessie George, an Englishwoman, by whom he had two sons. He moved to Ashford, Kent. Except trips to France, Italy, Poland, and in the United States in 1923, Conrad lived in his new home country. His first novel, Almayer's Folly (1895) was about a derelict Dutchman, who trades on the Jungle Rivers of Borneo. It was followed by An Outcast of the Islands (1896), less assured in its use of English. The Nigger of the 'Narcissus' was a complex story of a storm off the Cape of Good Hope and of an enigmatic black sailor. Lord Jim, narrated by Charlie Marlow, told about the fall of a young sailor and his redemption. Heart of Darkness was partly based on Conrad's four-month command of a Congo River steamboat. The book was written in 1899 and published in 1902.