Joshua Reynolds - Biography and Works
Joshua Reynolds was born on July 16, 1723 in Devon, England as the son of a schoolmaster. He was one of the most renowned portraitists of the 18th century.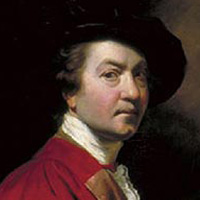 Sir Joshua Reynolds (1723-92)
Reynolds stayed in Italy from 1740 to 1743 where he worked with a portraitist Thomas Hudson studying antique sculptures. He returned to London in 1753 and pursued his career as a lecturer and an artist simultaneously.
Reynolds delivered 18 discourses to the members and students of the Royal Academy between 1769 and 1990 and was elected as the president of this academy in 1768. Reynolds's Discourses delivered at the Royal Academy are considered as the most important art criticism of the time.