Langston Hughes - Biography and Works
James Langston Hughes born in Missouri is a major figure of the Harlem Renaissance. He led a nomadic life in the U.S. and Europe until he began his prolific literary career with The Weary Blues published in 1926, poems on black themes in jazz rhythms and idiom, whose success made possible his college career at Lincoln University, Pennsylvania.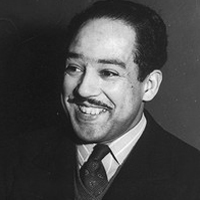 Langston Hughes (1902-1967)
His subsequent publications were in diverse media, but he is most widely known for his poetry issued in more than ten books and pamphlets. His concern with his race, mainly in an urban setting, is evident in his works, as is his social consciousness. He also wrote two novels and collections of stories, but his major prose writings are those concerned with his character Jesse B. Simple, satirical sketches of a shrewd but supposedly ignorant Harlem resident. For the stage, Hughes wrote several plays, and also wrote two autobiographical volumes.
Langston Hughes was advised by Vachel Lindsay to "Hide and write and study and think." Hughes followed his advice and became one of the most important figures of the Black Literary Renaissance of the 1920s in the United States. He wrote seriously and realistically about the lives of Negroes in White America. He was not only heard but also considered to be a dominant voice. A prolific writer with more than sixty books, Hughes wrote novels, short fiction, plays, lyrics, poems, opera, and translations. The Weary Blues (1926) and Fine Clothes to the Jew (1927) are early works that brought him recognition.
During the 1930s Hughes embraced radical politics, publishing a collection of satiric short stories, The Ways of White Folks (1934). In two later collections, Laughing to Keep from Crying (1952) and Something in Common (1963), he again highlights the absurdities inherent in racial prejudice. His play, The Mulatto, was produced on Broadway in 1935, and he founded black theatre groups in Harlem, Chicago and Los Angeles. His drama is collected in Five Plays (1963). Other volumes of his poetry include Shakespeare in Harlem (1942), Fields of Wonder (1947), Montage of a Dream Deferred (1951), and Ask Your Mama (1961). He published two autobiographies: The Big Sea (1940) and I Wonder As I Wander (1956). He also wrote numerous books, essays and articles on social, historical and musical subjects, and edited collections of black folklore, poetry and stories. In the latter part of his life he devoted his creative energies to writing the "Simple Stories", which involve a seemingly slow-witted black character who always outsmarts his antagonists: Simple Speaks His Mind (1950), Simple Takes a Wife (1953), Simple Stakes a Claim (1957) and Simple's Uncle (1965). His second novel, Tambourines to Glory, was published in 1958.
Langston Hughes, who became one of the century's most important black writers, wrote socially conscious poems that sought to capture the black experience. Hughes used the rhythmic structure of blues music and the improvisational rhythms of jazz in his innovative development of Whitman's ideas, and he insisted on a more inclusive democracy than even Whitman had proposed.
Cite this Page!
Sharma, K.N. "Langston Hughes - Biography and Works." BachelorandMaster, 12 Nov. 2013, bachelorandmaster.com/biography/langston-hughes.html.