Laxmi Prasad Devkota - Biography and Works
Laxmi Prasad Devkota (1909-1959) Nepali poet popularly acclaimed as "Mahakavi" (great poet), graduated in Arts in 1930 and in Law in 1933 both from Patna University, India.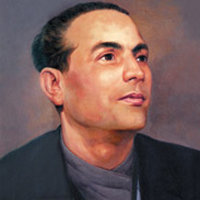 Laxmi Prasad Devkota
His early poems were influenced by the English Romantic Movement and his later poems speak with a powerful modern voice. He has written epics, short and long poems, verse plays, etc. His best known poems include Muna Madan (a folk epic, 1935), Shakuntala (a classical epic, 1945), Savitri Satyavan (a verse play, 1940). His poems have been published in several volumes. His subjects range from the native Kunjini (1945), the classical Greek Prometheus (written 1951, published 1971). His poems have been translated into many languages.
Devkota's poem 'The Lunatic' illustrates the modern expression of the deepest personal feelings of the poet and a surgical exposure of the hollowness of the so-called intellectual aspirants of the time:
"Clever and eloquent you are!
Your formulas are ever running correct.
But in my calculations one minus one is always one.
You work with your senses five,
With the sixth I operate.
Brains you have, my friend,
But the heart is mine.
To you a rose is but a rose,
It embodies Helen and Padmini for me.
You are strong prose,
But I am liquid poetry.
You freeze, I melt,
You decant when I go muddy.
When I am muddled, you are clear.
And just the other way about.
You have a world of solids,
Mine is one of vapour
Yours is thick and mine is thin.
You take a stone for hard reality,
I seek to catch a dream,
Just as you try to grab that cold sweet, minted coin's round reality.
Mine is a badge of thorns,
But yours is one of gold and adamant.
You call the mountains mute,
But orators do I call them.
Surely, my friend, a vein is loose in my brain.
I am insane,
Such is my plight."