Lewis Carroll - Biography and Works
Lewis Carroll is the pseudonym of Charles Lutwidge Dodgson, a well known writer of children's classic. Carroll was a renowned Victorian author born as Charles Lutwidge Dodgson at Daresbury in Cheshire County, England on January 27, 1832. His father Anglican Archdeacon Charles Dodgson married his first cousin Frances Jane Lutwidge in 1827. Charles was born as the third child and the eldest son to Frances Jane Lutwidge and Anglican Archdeacon Charles Dodgson.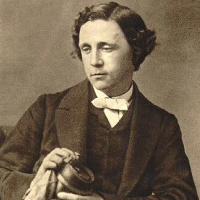 Lewis Carroll (1832-1898)
Charles had two older sisters Frances Jane and Elizabeth Lucy. When Charles was born his father was curate at All Saints' Church in Daresbury but in 1843 the family moved to the Croft Rectory in Richmondshire, North Yorkshire. After that Children's education started at home and later Charles enrolled at the Richmond Public School. At the age of fourteen he attended Rugby School in Warwickshire until 1849. The times spent at Rugby school were mostly unmemorable years for Charles- he caught whooping cough and a case of the mumps.
Like his father Charles excelled in mathematics. He also loved literature and studied extensively. He expressed his creativity in writing poetry and short stories. Charles earned his B.A. in 1854 with first class Honors in mathematics, Second in Classics and in 1857 graduated with an M.A. Charles was appointed Mathematical Lecturer at Oxford, a position he held from 1856 to 1881. Charles, who loved to tease and joke, entertained the children by drawing pictures and telling them stories including the beginnings of his Alice's Adventures in Wonderland. With over ten years' worth of poems Carroll published his first major collection as Phantasmagoria in 1869. His epic nonsense poem "The Hunting of the Snark" was published in 1876. In 1871 Carroll's sequel to Alice, Through the Looking Glass and What Alice Found There appeared, including another famous poem "Jabberwocky". Carroll's humorous play Euclid and his Modern Rivals was published in 1879. Other works of Charles include Alice's Adventures Underground (1886), The Game of Logic (1887), The Nursery Alice (1889), Sylvie and Bruno (1889), Eight or Nine Wise Words about Letter Writing (1890), and Sylvie and Bruno Concluded (1893). Charles Lutwidge Dodgson died on 14 January 1898 at his sisters' home The Chestnuts and he now lies buried at The Mount cemetery in Guildford, Surrey, England.