Margaret Atwood - Biography and Works
Margaret Atwood is a Canadian poet, novelist, and critic, whose works often feature women examining their relationships and society. Margaret Atwood was born in Ottawa, Ontario. She received a bachelor's degree from the University of Toronto in 1961 and a master's degree from Radcliffe College in 1962.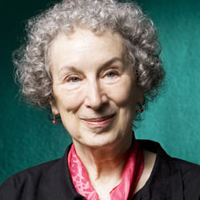 Margaret Atwood (Born in 1939)
Atwood's first book of poetry, Double Persephone, was published in 1961. She continued writing while teaching English literature at various universities in Canada from 1964 to 1972 and while acting as writer-in-residence at the University of Toronto in 1972 and 1973. Atwood's first novel, The Edible Woman (1969), won international acclaim.
Objecting to the classification of some of her works as feminist, Atwood pointed out that she began dealing with themes such as growing up female in the 1950s and sex-role definitions before they were popularized by the women's liberation movement of the 1970s. Her novel The Handmaid's Tale (1985) won a Governor General's Literary Award, Canada's highest literary honor. In 2000 Atwood won the prestigious Booker Prize for her novel The Blind Assassin (2000), a saga of family tragedy; the annual award is given to the best full-length novel written in the British Commonwealth.
Atwood's books of poetry have also won much critical favor. The Circle Game won a Governor General's Literary Award in 1966, and Power Politics was also praised. Atwood's critical works include books like Survival: A Thematic Guide to Canadian Literature. In addition she edited The New Oxford Book of Canadian Verse in English (1982). Her other works include Morning in the Burned House, a collection of poetry. The entire body of Atwood's work was awarded the Welsh Arts Council's International Writer's Prize in 1982. In poetry, her subjects include the social roles of women, as mothers and as daughters, and the power dynamics between man and women, nation and nation, and those in control and those who have been marginalized. Her poems, generally in free verse, are at times ironic and dark, as in her recent elegies for her father.
Cite this Page!
Sharma, Kedar N. "Margaret Atwood - Biography and Works." BachelorandMaster, 14 Nov. 2013, bachelorandmaster.com/biography/margaret-atwood.html.