Michael Ondaatje - Biography and Works
Michael Ondaatje is a Canadian writer and filmmaker whose novel The English Patient (1992) was co-winner of the 1992 Booker Prize, the United Kingdom's most prestigious literary award. Ondaatje was the first Canadian to receive the prize. Ondaatje was born in Colombo, Sri Lank, the fourth child of a privileged family of Dutch, Tamil, and Sinhalese origin.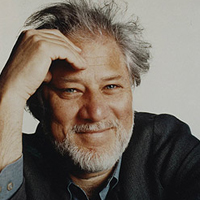 Michael Ondaatje (Born in 1943)
He lived with his father in Sri Lanka until 1954 when, at the age of 11, his father committed suicide and so he moved to England to live with his mother. While in England he attended Dulwich College. In 1962 he immigrated to Canada, where he studied at Bishop's University, Lennoxville, Québec, concentrating in English literature and history. It was during this time that he began to write poetry. Ondaatje published his first book of poetry The Dairy Monsters in 1967. All his collections have been acclaimed for their surrealist use of gruesome images and unexpected juxtapositions.
Later volumes of poetry include There's a Trick with a Knife I'm Learning to Do (1979) and The Cinnamon Peeler (1990). His famous novel Running in the Family (1982) is a semi-autobiographical exploration of personal and public myth, based on a trip by Ondaatje to the country of his birth. The novel Anil's Ghost (2000) focuses on a human rights worker and is set in Sri Lanka in the mid -1980s, when a civil war was just beginning. Ondaatje has been awarded the Governor General's Literary Award, one of Canada's highest literary prizes, three times. He became a professor of English at Glendon College, York University, Toronto, in 1971. He first gained recognition in the late 1960s as a poet, but his later works have often combined poetry, prose, and visual elements. In his verse, Ondaatje examines the dichotomy between rational intellect and disorderly reality, suggesting that the poet's efforts to render personal experience must necessarily result in distortion. Ondaatje's style is characterized by humor flamboyant imagery extravagant metaphors, and sudden shifts in tone. His poems explore the erotic, the ironic and the pathetic: they typically depict emotional domestic situations as well as individuals at odds with society themselves. His subjects are lifted from the realm of the personal through Ondaatje's skillful conflations of autobiography, history, folktale, and myth. Ondaatje's poems deal with the question of art's relation to life, which is why critics continue to study them as central statements on poetics and creativity.
Cite this Page!
Sharma, Kedar N. "Michael Ondaatje - Biography and Works." BachelorandMaster, 15 Nov. 2013, bachelorandmaster.com/biography/michael-ondaatje.html.