Oscar Wilde - Biography and Works
Oscar Wilde (1854-1900) an Ireland born British dramatist was born in Dublin to unconventional parents. Wilde studied at Portora Royal School, in Enniskillen, County Fermanagh (1864-71), Trinity College, Dublin (1871-74) and Magdalen College, Oxford (1874-78), where he was taught by Walter Pater and John Ruskin.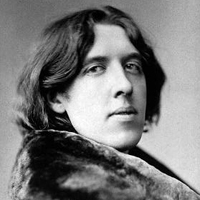 Oscar Wilde (1854-1900)
In Oxford, Wilde shocked the pious dons with his irreverent attitude towards religion and was jeered at his eccentric clothes. Wilde received his B.A. and on the same year he moved to London.
Soon his lifestyle and humorous wit made him a spokesman for Aestheticism, the late 19th century movement in England that advocated art for art's sake. Wilde's primary passion in life is art. According to him art must best serve the needs of art. He professed the religion of art. The doctrine of art for art's sake is his favorite doctrine. He felt that poetry did not serve religious, political, social, or biographical goals. The end of art is aesthetics, according to him.
To earn his living, Oscar Wilde worked as art reviewer (1881), lectured in the United States and Canada (1882), and lived in Paris (1883). Between the years 1883 and 1884 he lectured in Britain. From the mid-1880s he was a regular contributor for Pall Mall Gazette and Dramatic View. In 1884 Oscar Wilde married Constance Lloyd (died 1898) and to support his family Wilde edited in 1887-89 Woman's World magazine.
Wilde attempted to initiate his writing career in the field of novel writing. But he failed in that direction. Consequent upon his failure in the field of the novel, Wilde began to write plays. He wrote remarkably popular plays from 1891 to 1895. Some of his popular plays produced in that period are listed below. Salome (1891), Lady Windermere's Fan (1892), A woman of No Importance (1892), An Ideal Husband (1895), The Importance of Being Earnest (1895). All these above mentioned plays are sharp commentaries on the upper class British society he knew best.
Wilde was brilliant in verbal expression. In the art of conversation he was peerless. He was so gifted in the art of conversation that he was widely known as the most popular conversationalist of his time. His success as a conversationalist and his brilliance as a master in verbal expression found their reflection in The importance of Being Earnest.
Oscar Wilde is extremely critical and sharply satirical of the upper middle class norms and values. Some of the follies, foibles, faults and flaws in the behavior of this class are exposed in their naked form. Dialogues in the plays of Oscar Wilde are full of witty and insightful remarks. Paradox is the technique Wilde repeatedly adopts to accomplish his satirical purpose. The language in his plays is flowery, polished with a false touch of artificiality. His style is artificially attractive. His flowery style sounds as if it is in depth. But beneath its charming impression runs a sort of emptiness. His insightful, witty and flowery style still gives every impression of depth. But in point of fact, it sounds artificially flowery and delightfully superficial.
Before the theatrical success Wilde produced several essays, many of these anonymously. "Anybody can write a three-volume novel. It merely requires a complete ignorance of both life and literature," he once stated. His two major literary-theoretical works were the dialogues The Decay of Lying (1889) and The Critic as Artist (1890). In the latter Wilde lets his character state, that criticism is the superior part of creation, and that the critic must not be fair, rational, and sincere, but possessed of "a temperament exquisitely susceptible to beauty". In a more traditional essay The Soul of a Man under Socialism (1891) Wilde takes an optimistic view of the road to socialist future. He rejects the Christian ideal of self-sacrifice in favor of joy. "The only way to get rid of a temptation is to yield to it."
Wilde was first in Wandsworth prison, London, and then Reading Jail. When he was at last allowed pen and paper after more than 19 months of deprivation, Wilde had become inclined to take opposite views on the potential of humankind toward perfection. During this time he wrote De Profundis (1905), a dramatic monologue and autobiography, which was addressed to Alfred Douglas.
After his release in 1897 Wilde lived under the name Sebastian Melmoth in Berneval, near Dieppe, then in Paris. He wrote The Ballad of Reading Jail, revealing his concern for inhumane prison conditions. It is said, that on his death bed Wilde became a Roman Catholic. He died of cerebral meningitis on November 30, 1900, penniless, in a cheap Paris hotel at the age of 46.