Pablo Neruda - Biography and Works
Pablo Neruda (1904-1973) Chilean poet and diplomat, was educated at the University of Chile. He was awarded the Nobel Prize for Literature in 1971.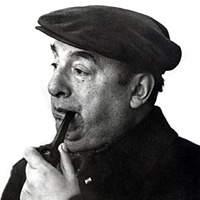 Pablo Neruda
He made his name with Twenty Love Poems and a Song of Despair (1924). From 1927 he held diplomatic posts in various East Asian and European countries. Returning to Chile in 1943 he joined the Communist party, and was elected to the Senate in 1945. He traveled in Russia and China (1948-52), and was later the Chilean Ambassador in Paris (1970-2). His major work, General Song (1950), was originally conceived as an epic in Chile and was later expanded to cover the history of all the Americans from their ancient civilizations to their modern wars of liberation.
An example of his romantic poem, 'Here I Love You', is held together by a series of brilliant and startling images of love and death:
"Here I love you and the horizon hides you in vain.
I love you still among these cold things.
Sometimes my kisses go on those heavy vessels
that cross the sea towards no arrival.
I see myself forgotten like those old anchors.
The piers sadden when the afternoon moors there.
My life grows tired, hungry to no purpose.
I love what I do not have. You are so far.
My loathing wrestles with the slow twilights.
But night comes and stars to sing to me."