Paul Laurence Dunbar - Biography and Works
Paul Laurence Dunbar was one of the most reputed African American poet, playwright and a novelist who was born to the parents who were slaves in Kentucky before the Civil War. His father, Joshua was a runaway slave before the end of the civil war and he joined the 55th Massachusetts Infantry Regiment. His mother moved to Dayton after the liberation.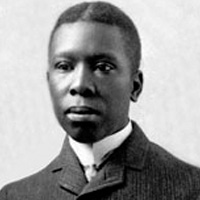 Paul L. Dunbar (1872-1906)
His parents married life was not happy, so his mother left him immediately after the birth of a second child. When his father died in 1885, Paul was just 12 years old.
At the early age of six, Paul wrote his first poem and recited for the first time in the public at the age of nine. His mother had played a great role in shaping his literary career: she often used to read Bible for him and encouraged him to write. He was admitted to the Central High School and it was surprising that he was the only African American student in his school. He became friends with Wilbur and Orville Wright. He was later made the president of the School's literary society, editor of the school newspaper and a member of the debate club.
Dunbar's first published poems are 'Our Martyred Soldiers' and 'On the River' in The Herald. After schooling, he started working as an elevator operator. He wanted to study law, but could not afford the course. In some of the places he was restricted to work due to the color of his skin. He wanted to publish his poetry collection, so he asked for help to Wright Brothers. They suggested to him to approach United Brethren Publishing House, and later his poetry collection called Oak and Ivy was printed in 1893. He was so clever that he sold the books to the passengers of the elevator and earned back his investment very soon. Oak and Ivy was written both in traditional Standard English verse and in dialect. This poem earned him name and fame that he received the attention of James Whitcomb Riley. He started getting financial and other literary help from the recognized personalities like Attorney Charles A. Thatcher and psychiatrist Henry A. Tobey. They even helped him in publishing his second poetry collection Majors and Minors (1896). This second collection was highly praised by the esteemed poet William Dean Howells whose positive review brought him unexpected fame and name. He then published his two earlier collections in new volume called Lyrics of Lowly Life.
In his later life, he was more inclined to write novels and short stories where he often included white characters. His first collection of short stories Folks From Dixie (1898) was well received but, his first novel The Uncalled (1898) was criticized as 'dull and unconvincing'. He became the first African American to write solely about the whites. He wrote lyrics for In Dahomey, which was performed in the Broadway and this musical comedy provided him a great success. Dunbar was also active in the civil rights movements and in upgrading the conditions of African American. He was also the founding member of the American Negro Academy.
He married Alice Ruth Moore in 1898 who was also a poet and teacher. In 1900, he was diagnosed with tuberculosis, and with the suggestion of doctors he along with his wife shifted to Colorado. But, in 1902 he and his wife separated which pushed him into alcoholism and depression. In 1904, he returned to his mother in Dayton and died in 1906 because of the worsening condition of tuberculosis.