Paul Simon - Biography and Works
Paul Simon (born in 1941) was born in Newark, New Jersey, USA in 1941. A singer, songwriter and guitarist, he is also an excellent pop lyricist. The most successful album, Bridge Over Troubled Water, with one half of the duo Paul Simon and Art Garfunkel came out in 1970. These two were initially known as Tom and Jerry.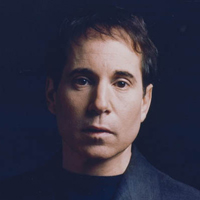 Paul Simon
The duo earned their first major success with 'The Sound of Silence' (1965). Simon and Garfunkel became one of the most successful recording duos in the history of popular music between 1965 and 1970. The partnership ended amid musical disagreements and a realization that they had grown apart. After the break-up, Simon took songwriting classes in New York and prepared a stylistically diverse solo album, Paul Simon in 1972. Among his successful album are There Goes Rhymin' Simon (1973) and Graceland (1986). He has also performed many solos under various pseudonyms.
Paul Simon's poem, 'The Sound of Silence', illustrates the neon God worshipped by modern civilization represents the idol of the spiritually misled people.