Rabindranath Tagore - Biography and Works
Rabindranath Tagore (1861-1941) Bengali Indian poet, writer and philosopher, was born in Calcutta. He was educated mostly at home. Quite early from his pen began to flow novels, essays, short stories, and poetry.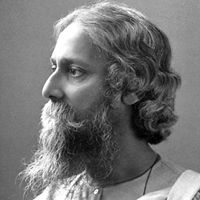 Rabindranath Tagore
His genius was soon recognized and he was hailed as one of the leading literary figures of the modern age. Tagore wrote many poems that cover a wide range of interest. He was a devotee of God, but his love of man was no less. In most of his devotional verses his love of man is associated with his love of God.
He is best known for his poetic works, notably Gitanjali (1910, Songs Offerings). His poetry pioneered the use of colloquial Bengali instead of the archaic literary idioms then approved for verse. He also wrote philosophical plays, novels (such as Gora, 1929) and short stories. He received the Nobel Prize for Literature in 1913. And was knighted in 1915 – an honor which he resigned in 1919 as a protest against the Amritsar massacre (1919) by the British where British troops killed some 400 Indian demonstrators protesting colonial laws.
In 1901, Tagore founded near Bolpur, the Shantiniketan, a school to blend Eastern and Western philosophical and educational systems. Mohandas Karamchand Gandhi admiringly called him 'Gurudev'. His works include Gitanjali, The Crescent Moon, Post Office, Chitra, Sadhana, The Home and the World and The Religion of Man.