Rita Dove - Biography and Works
Rita Dove is an American writer who served as poet laureate of the United States from 1993 to 1995. She was the first African American writer to become poet laureate. Born in Akron, Ohio, Dove graduated from Miami University in Ohio in 1973 and from the Writers Workshop at the University of Iowa in 1977. She taught at Arizona State University of Virginia. Much of Dove's work concentrates on revealing the beauty and significance of everyday events in ordinary lives.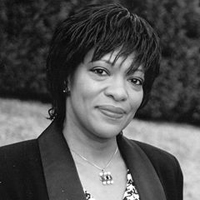 Rita Dove (Born in 1952)
In The Yellow House on the Corner (1980) and Museum (1983), she shows how such moments make up individuals history and add to the experiences that human beings share. Dove won the 1987 Pulitzer Prize in poetry for her third collection of poems, Thomas and Beulah (1986), a series of narrative poems that explore the lives of two characters modeled after Dove's grandparents. The poems are written from the perspective of Thomas and Beulah, who offer their observations on both personal and public issues ranging from marriage to the experiences of African Americans.
In Thomas and Beulah she presents her family history, specifically that of her maternal grandparents, within a larger picture of the millions of African Americans who moved north in the early decades of this century. Her Mother Love (1995) explores family life and motherhood within the framework of the Greek myth of Demeter and Persephone.
Dove is considered one of the leading poets of her generation. In her work she draws upon personal perception and emotion while integrating an awareness of history and social issues. In awarding Dove the United States poet laureateship in 1993, James H. Billington praised her as "an accomplished and already widely recognized poet in mid-career whose work gives special promise to explore and enrich contemporary American poetry." Dove's poetry is characterized by a tight control of words and structure, an innovative use of color imagery, and a tone that combines objectivity and personal concern. Although many of her poems incorporate Black history and directly address racial themes, they also present issues, such as prejudice and oppression, which transcend racial boundaries. Dove has explained "Obviously, as a black woman I am concerned with race… But certainly not every poem of mine mentions the fact of being black." Many of her poems are about humanity "and sometimes humanity happens to be black". Critics' points to Dove's impressive range of subject, mood, character and setting in her works as evidence of her talent and an assurance that the best work of her career may not yet be written.
Cite this Page!
Sharma, Kedar N. "Rita Dove - Biography and Works." BachelorandMaster, 17 Nov. 2013, bachelorandmaster.com/biography/rita-dove.html.