Robert Creeley - Biography and Works
Robert Creeley is a well-known American poet, who is best known for his association with the influential Black Mountain Poets. The group was centered at Black Mountain College near Asheville, North Carolina, during the 1950s. Creeley was born in Arlington, Massachusetts. After completing his college preparatory studies at Holderness School in Plymouth, New Hampshire, he attended Harvard University.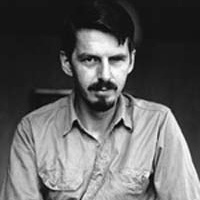 Robert Creeley (1926-2005)
He left school in 1944 to join the American Field Service, which sent him to India and Burma (now known as Myanmar), as a truck driver at the conclusion of World War II (1939-1945). In 1945 Creeley returned to Harvard, and he married in 1946. In 1954 Creeley graduated with a B.A. degree from Black Mountain College. American poet, theorist, and scholar Charles Olson, leader of the Black Mountain Poets then invited Creeley to join the faculty of Black Mountain College. While there, Creeley founded and edited the "Black Mountain Review".
In 1955 Creeley and his wife were divorced and he left the college. Creeley's poems focused on a metaphor or complex of feeling, which planted itself in the mind. Often the sentences were illogical, elliptical, or suspended in the indefinite; they opened delicate, precisely calculated gaps, so to speak, from which suggestions of meaning were emitted. His isolated interior lyrics observe his own feelings – mistrust, fluctuation love, angst, loveliness. His states of mind are morally painful, diminished, and above all, uncertain so that from line to line his poems undermine what they try to assert. The means to this is an interrupting line-break, a question mark where we expect a period – but doubt insinuates itself everywhere. His poems have few or no description, characterizations, or incidents. He builds his subtleties and resonance by juxtapositions of short, simple lines and phrases, by manipulation of syntax and rhythm, and by metaphor. For him, 'form is never more than an extension of content'. The operation of intellect seems to lie almost entirely within the form itself in the pattern of perception and in his scrupulous attention to the perceiving mind and heart at work at the contemplation of compelling emotional issues. Creeley hammers out an intense, rigorous aesthetic.
Creeley's early books of poems include The Madman (1952) and If You (1956). After several teaching jobs, including one as a tutor on a Guatemalan plantation, he established himself as a serious poet with For Love: Poems (1950-1962). He then embarked on a distinguished academic career in the English departments of several universities. In 1966 he joined the faculty of the State University of New York at Buffalo. Concerned mainly with analysis of emotion, minimalist in style, and often syntactically disjointed, Creeley's work shows the influence of Olson, Allen Ginsberg, and William Carlos Williams, as well as jazz music.
Cite this Page!
Shrestha, Roma. "Robert Creeley - Biography and Works." BachelorandMaster, 17 Nov. 2013, bachelorandmaster.com/biography/robert-creeley.html.