Robert Herrick - Biography and Works
Robert Herrick was a 17th century famous English lyric poet ever born. He was born in the family of goldsmith Nicholas Herrick and Julia Stone as the seventh child in Cheapside, London. He was just one year old, his father died in a fall from the window on the fourth floor. It is believed that he joined the Merchant Taylor's School and in 1607 he became apprenticed to his uncle William Herrick. He matriculated from St. John's College, Cambridge at the age of 22 and later went to Trinity Hall for the graduation in 1617.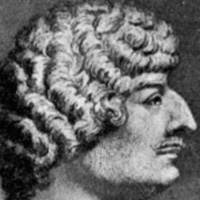 Robert Herrick (1591-1674)
In 1647 during the English Civil War, he was exiled from his home because he refused the Solemn League and Covenant. He started living in London, spending his time in lyric and poetry writing. In 1660, King Charles II was restored and he appealed for his restoration to his living. He was granted his wish and he became vicar of Dean Prior in 1662. He wrote poems celebrating and praising King Charles II and his brother James. He lived there all his life. During his stay in London, he wrote many poems and published them in Hesperiods; or the Works both Human and Divine of Robert Herrick in 1648.
Robert Herrick is one of the leading figures of cavalier poetry including Andrew Marvel. They rejoice in the present day and believe in 'now and here.' The term cavalier is also used to denote the followers of the King Charles I and his son Charles II. Carpe diem is the main genre they follow in writing poetry. The best example includes To the Virgins, to make much of Time, which mainly focuses on the theme of Carpe diem genre: life is short and beautiful, the world is mesmerizing, love is splendid, and so we should not waste time and make the maximum use of these things. 'Gather ye rosebuds while ye may, Old Time is still a-flying; And this same flower that smiles today, Tomorrow will be dying,' is the famous opening line of To the Virgins, to make much of Time. This poem revived the Carpe diem genre.
As Herrick was a bachelor throughout his life, all the female characters in his poetry collections are fictional. Despite his being bachelor, he loved the fullness of sensuous life, and this is presented vibrantly in his poems such as Cherry-ripe, Delight in Disorder and Upon Julia's Clothes. His matchless style of projecting saying in monometers is praiseworthy. One example is 'Thus I/ pass by/ and die/ as one/ unknown/ and gone.' His poetry is rich in praising the English lifestyle and its beautiful seasons, singing of the different body parts of female, praising the Christian faith, and the themes borrowed from classical writings. Swinburne one Victorian poet called him 'the greatest song writer ever born of English race.'
Herrick was a member of Sons of Ben, a group influenced by Ben Johnson. His poetic style is heavily impressed by Ben Johnson and classical Roman poets. So, he was not so popular at his time, but later in the 19th century his works were praised and revived and printed. Herrick wrote altogether five poems about Ben Johnson. Though he wrote over 2500 poems he only published one poetry collection called Hesperiods, which includes only 1400 short poems. The rest of his poems were published in miscellanies and songbooks.