Robinson Jeffers - Biography and Works
Robinson Jeffers was born on January 10, 1887, in Allegheny, Pennsylvania a town which is now part of Pittsburgh. Jeffers travelled through Europe during his youth, which included schooling in Switzerland.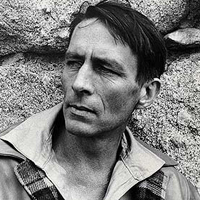 Robinson Jeffers (1887-1962)
He entered Occidental College at the age of sixteen so as to complete his graduation after his family moved to California. At the age of eighteen he entered the University of Southern California as a literature student.
Jeffers brought a great knowledge of literature, religion, philosophy, language, myth and science to his poetry. He coined the word inhumanism, the belief that mankind is too self centered and too indifferent to the "astonishing beauty of things." One of his favorite themes was the intense, rugged beauty of the landscape set in opposition to the degraded and the introverted condition of modern man. Jeffers believed that human beings had developed a self centered view of the world, and felt passionately that they should learn to have greater respect for the rest of creation.
Jeffers major works include The Woman at Point Sur (1927), Cawdor and Other Poems (1928) Thurso's Landing (1932), Medea (1946) and The Double Axe (1948). Robinson Jeffers died in 1962.