Roy Campbell - Biography and Works
Roy Campbell is a South African poet, known for his dynamic, witty verses. He was born in Durban and moved to Britain while in his teens. Campbell earned critical acclaim for his first volumes of poetry.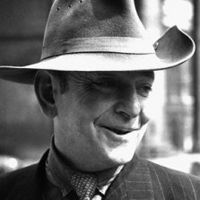 Roy Campbell (1901-1957)
In 1924 he published The Flaming Terrapin, an exuberant allegorical narrative of the Flood, in which the terrapin represents energy and rejuvenation. In 1928 he published The Wayzgoose, a satire on South African life.
He also published Adamastor in 1930, which celebrates vitality and is characterized by energetic imagery. And in 1931 he published The Georgiad a long, biting attack on the Bloomsbury group. In 1935 he became a Roman Catholic and fought for Franco in Spain. His next book of verse Mithraic Emblems appeared in 1936 and in 1939 a long poem, Flowering Rifle, a noisy pro-Fascist work which brought him much opprobrium. He fought for the Fascist side in the Spanish Civil War (1936-1939), and in the poetry collection Flowering Rifle (1939) he defended fascism and the authoritarian rule of General Francisco Franco of Spain.
Campbell fought with the British forces in World War II (1939-1945). He wrote two autobiographical works mainly based on his war experiences. He published Sons of the Mistral (1941) as a selection of his best poems. His Collected Poems appeared in 1950. Light on Dark Horse (1951) is a second autobiography, propagating is legend. He did much translation in the course of his life, chiefly from French and Spanish, and in 1952 published an important study and translation of 'Garcia Lorca'. Campbell was killed in a car crash in Portugal in 1957.
Cite this Page!
Sharma, Kedar N. "Roy Campbell - Biography and Works." BachelorandMaster, 18 Nov. 2013, bachelorandmaster.com/biography/roy-campbell.html.