Siegfried Loraine Sassoon - Biography and Works
Siegfried Loraine Sassoon was an English poet, writer, and a soldier who was awarded with CBE i.e. Commander of British Empire and MC i.e. Military Cross. He was born in a well to do Jewish family and lived a very relaxing life hunting foxes and writing poetry. Though his father was disinherited from the Sassoon wealth for marrying the non-Jew, he had sufficient property to lead a modest life without a need to earn.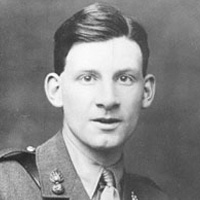 Siegfried L. Sassoon (1886-1967)
In 1913 he published, The Daffodil Murderer, which was a parody of John Masefield's The Everlasting Mercy. It was the first success for him. But, with the outbreak of the First World War, he joined the army and fought in France in late 1915. Later, he refused to fight anymore writing a letter to the war department stating that 'I believe that this War is being deliberately prolonged by those who have the power to end it.' For this protest, he had to face court martial, but his friend Robert Graves saved him saying that he suffered from shell-shock and he was sent to hospital instead of prison.
During his stay in hospital, he wrote many anti-war poems which were published in Counter-Attack and Other Poems. His 64 war poems are later published in The War Poems of Siegfried Sassoon. His poems did not receive praise only, but also vehement criticism by the public and critics. He was criticized for showing less respect and patriotism towards nation and for the extreme depiction of the realities of the war field. The violence and the exhaustion of the war in his poetry are mainly condemned by many critics and pacifist. His war poems are based on the theme of the ugly truths of war such as rotting corpses, distorted body parts, frustration among the soldiers, filth, and suicide. His war poetry influenced another war poet Wilfred Owen.
He joined the Labor Party and continued writing poetry. During this phase of life, he produced his most famous trilogy of autobiographical novels The Memoirs of George Sherston. He portrayed his feelings of wartime, the nostalgic moments of his country life before the outbreak of the bloody war and his slow inclination towards pacifist movement in the novel. His other well-known works are Memoirs of a Fox Hunting Man, Memoirs of an Infantry Officer, biography on George Meredith. In 1957, he became a Catholic and since then his poetry was dominated by religious feelings and subject matter. Sequences is his one of the most impressive collection of religious poetry.