Sir Arthur Conan Doyle - Biography and Works
Sir Arthur Conan Doyle (1859-1930) was born in Edinburgh, Scotland. He qualified as a doctor and practiced medicine for a time. But his interest was in writing stories. He became immensely famous for his novels about an amateur detective named Sherlock Holmes.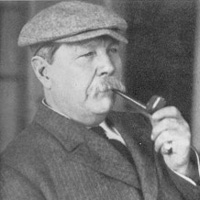 Sir Arthur Conan Doyle
Since, his works are generally full of action and excitement; they are well suited for dramatic presentation. As a result, stage versions of these tales have been quite successful.
He joined the University of Edinburgh to pursue Medical study. He met Professor Dr. Joseph Bell, whose keen observation skill encouraged Arthur to create his fictional detective Sherlock Holmes. He met his two classmates James Barrie and Robert Louis Stevenson too in the university who would later become his fellow authors. While studying medicine, Doyle for the first time wrote a short story called The Mystery of Sasassa Valley. That was followed by a second story, The American Tale, which was published in London Society. In 1890 his novel, A Study in Scarlet, presented the character of Detective Sherlock Holmes. This is the first of sixty series of Sherlock Holmes detective stories Conan wrote. His experience as a ship's surgeon motivated him to write an adventure story and he authored a story Captain of the Pole Star.
He is immensely convinced with the spiritualism or psychic religion, so he later tried to spread his concept of spiritualism through his books. In his later life, he gave up the profession of medicine and fully devoted himself to the literature. From 1887 to 1916 he actively took part in the spiritualist movement and he wrote three books which were largely autobiographical. The three spiritual books are Beyond the City (1893), The Stark Munro Letters (1895) and A Duet with an Occasional Chorus (1899). He also produced The Great Shadow in 1892, and his most famous historical novel, Rodney Stone, in 1896.
His four most popular Sherlock Holmes books are The Sign of Four (1890), The Adventures of Sherlock Holmes (1892), The Memoirs of Sherlock Holmes (1894) and The Hounds of Baskervilles. In order to focus on spiritual writing, Conan killed Sherlock Holmes character in 1893, but the public outcry compelled him to resurrect Holmes again. He reintroduced his ghost in The Hounds of Baskervilles and later brought him back to life in The Adventure of the Empty House.