Sir Walter Raleigh - Biography and Works
Sir Walter Raleigh was born in 1552 in the family of Walter Raleigh and Catherine Champernowne. He was a writer, poet, soldier, politician, courtier, spy and explorer. He was also famous for popularizing tobacco in England. He had spent some time in Ireland and helped the Irish Government in the suppression of the rebellions.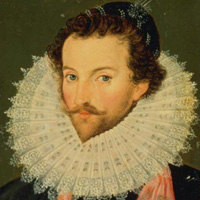 Sir Walter Raleigh (1552-1618)
He became landlord with the property seized from the native Irish. With the kindness of Queen Elizabeth, he rose to the level of Knight in 1585. He took interest in English colonization of North America and was given the right to explore Virginia.
In 1591, he secretly married Elizabeth Throckmorton, who was one of the maids of Queen Elizabeth without her approval. For that crime, they both were imprisoned. After the release, they went to Sherborne, Dorset. After the death of Queen Elizabeth in 1594, he was again imprisoned and this time for the involvement in the plot against King James I. In 1616, he was released and went in search of gold in South America. On the way to South America, his commander looted a Spanish against the peace treaty of 1604. Later he was accused of the same crime, and executed in 1618.
Raleigh is one of the best known poets of his era. His style of writing poetry is straightforward and simple. He is considered one of the members of 'silver poets'. Silver poets are the group of poets who did not follow the poetic tradition influenced by the Italian Renaissance. As a counterattack, Raleigh and other poets of this group composed poetry out of strong personal views of love, beauty and time. Their poetry was inspired by the real events of life rather than the classical reference of the Italian Renaissance.
Raleigh wrote a poetic response called The Nymph's Reply to the Shepherd to Christopher Marlowe's The Passionate Shepherd to His love. Here Raleigh's speaker being a Nymph answers to the Shepherd of Marlowe that she would not accept his love proposal because all the fancies he had promised to her to gift are temporary. They are fragile in nature and decay, wither and die soon. In other poems such as What is Our life and The Lie, he articulates his disdain towards the transitory nature of the world. The Ocean's Love to Cynthia is about the melancholic sense of history influenced by the conceits of his contemporary John Donne.