Stephen Crane - Biography and Works
Stephen Crane was born in Newark, New Jersey. He was the fourteenth child of a Methodist minister, who named him after an ancestor who had signed the Declaration of Independence. After his father died, he went to the Hudson River Institute at Claverack, New York and briefly attended Lafayette College and Syracuse University shifting his interests from engineering to literature before becoming a freelance journalist in New York City.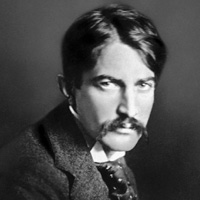 Stephen Crane (1871-1900)
His real interests, however, were literary-he had written the first draft of Maggie: A Girl of the Streets while in college-and for several years, until the publication of The Red Badge of Courage in 1895 won him recognition, Crane existed on the brink of poverty with but few calls upon his journalistic talents. Once established, however, Crane was in demand as a special correspondent, and in the capacity he covered the Greco-Turkish and Spanish-American wars. Maggie was published in 1896, and other volumes followed: George's Mother (1896), The Open Boat and Other Tales of Adventure (1898), The Monster (1899), Whilomville Stories (1900), and Wounds in the Rain: War Stories (1900). Crane also published two volumes of poetry: The Black Riders and Other Lines (1895) and War Is Kind (1899). He died of tuberculosis in Badenweiler, Germany, in 1900.