Stevie Smith - Biography and Works
Florence Margaret Smith, generally recognized as Stevie Smith was one of the famous female English poet and novelist. She was born in Yorkshire, England. Her father was a businessman of shipping company, but when his business started to get loss he went to join the North Sea Patrol.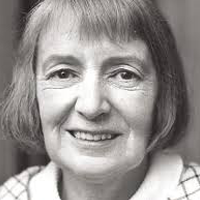 Stevie Smith (1902-1971)
It is said that, he did not have a good marital relationship with her mother. Because of this, she rarely could meet and see him. He used to send very short messages in postcards like 'Off to Valparaiso, Love Daddy'.
At the age of three, her mother took her and her sister to Palmer Green, North London and stayed there for the rest of the life. During her stay in that place, she got the most important impression of her aunt Madge Spear who came to nurse her mother. Smith used to call her 'The Lion Aunt' who was a feminist. Her aunt raised Smith and her sister without any dependence on men in the male dominated Victorian society. Because of this upbringing, she became extremely independent. When Smith was five years old, she suffered from tubercular peritonitis and admitted to the hospital for three years.
In 1937, she published her first collection of poetry called A Good Time Was Had by All with her own comic pictures. Her first novel, Novel on Yellow Paper published in 1936 depicted the situation of England during the First World War. Stevie Smith's voice as a poet is clear and unmistakable; from her first work (published in 1937) to the last poems written just before her death in 1971 her style and subjects are completely her own. The poems seem simple, almost as if written by a child, on the surface; they argue with God, are rude about people she dislikes (especially those who act cruelly, either to other people or animals), and give sharp and critical descriptions of how people behave to each other. They are often very funny, but there is also sadness at the loneliness and un-happiness of some lives, as in her poem on the man drowning at sea who waved his arms to the people on land to show them that he needed help - but they thought he was only waving to say hello.
Her separation from father, her childhood illness and three years separation from the mother and sister, death of mother when she was 16, all these caused her to preoccupy with the theme of death and fear. She suffered from acute nervousness, shyness and intense sensitivity throughout her life. She was awarded with a Cholmondeley Award in 1966 and by the Queen's Gold Medal for poetry in 1969. She died of a brain tumor in 1971.