Ted Hughes - Biography and Works
Ted Hughes was born on 17th August 1930 in Yorkshire, United Kingdom. His father, William Hughes had fought on the Gallipoli Peninsula in April 1915. William Hughes was one of the only seventeen survivors of the battalion, which participated in that campaign.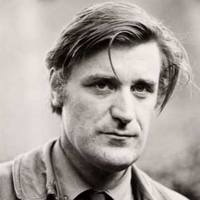 Ted Hughes (1930-1998)
After returning home, he told his family the stories of the fighting in the war and his own participation in it. He had been seriously wounded in the fighting. William Hughes's accounts of the fighting in the First World War made a permanent impression on Ted Hughes when he was a child. The war had a profound influence on Ted Hughes and the region where he was born also had another profound influence. The influence of topography during his childhood remained permanently engraved on his mind. Those childhood impressions and experiences always haunted him while writing poems in the later part of his life.
His first anthology of poems The Hawk in the Rain was published in 1957. In the same year, he went with Sylvia Plath to live in America where they stayed until 1959. In 1960, he and his wife returned to England, and published his second collection of poems, giving it the title of Lupercal. The second volume of his poems confirmed his reputation as a young poet of great promise. In fact, his very first publication namely; The Hawk in the Rain had brought him in to recognition and much critical acclaim. Sylvia Plath also was an author of tremendous talent. Their marriage was already showing signs of strain and the couple separated. Sylvia and two children moved to a flat in London. Hughes too moved to London, and began to stay there separate from his family. In 1963, Sylvia Plath committed suicide in her flat. It seems that Hughes had been having an affair with another woman. It made Sylvia frustrated. For three years after her suicide, Hughes did not write much except a few magazine articles and book reviews. After a trip to Ireland in 1966, he recovered his earlier vigor. After that he published a number of anthologies.
Hughes had been recognized as one of the most outstanding English poets. In 1984, he was appointed the poet Laureate of England. His personal life had been eventful, and even turbulent. But the facts of his individual life do not have much impact on his poems. His biography has not much affected his poetry. But also his volume of poems entitled Wodwo appeared about four years after Sylvia's suicide, contains some of the most pessimistic poems he ever wrote. The pessimism of these poems may be attributed to the personal disaster of his first wife's death, but on the whole his poetry cannot be described as autobiographical to any appreciable degree. The two later volumes of his poems Remains of Elements and River contain realistic and authentic pictures of the natural scenery that he had experienced in the early years of his life. As a whole, Hughes's poetry is not written in the confessional mode. Some possible perspectives to analyze Hughes' poetry are:
Preoccupation with myth in his poetry
His mythopoeic imagination
Use of animal imagery
Unity of impression in his poetry
Poet of war and death
Nature imagery in his poetry
Violence and brutal violence is certainly one of the dominant themes in the poetry of Ted Hughes. The poet is fascinated by violence of all kinds: violence with love, hatred and so on. In Hughes eyes violence, though painful and very often fatal is also a guarantee of energy for life.
The theme of violence is vividly expressed in the animal poems of Hughes. Those poems depict the cruelty, the fierceness and the violence which is inseparable from the world of nature. In some of his poems, death is depicted as heroic as well as tragic. Those poems keep cruelty and violence in the forefront.
Hughes has broken a new ground by dealing with the dark, psychic, violent forces latent in modern life. Some critics have expressed the view that Hughes' violent imagery in his poems shows the continuance of the imperialistic sense of power among the English people. Hughes' violent imagery is closely connected with authoritarian politics.
Cite this Page!
Sharma, Kedar N. "Ted Hughes - Biography and Works" BachelorandMaster, 19 Nov. 2013, bachelorandmaster.com/biography/ted-hughes.html.